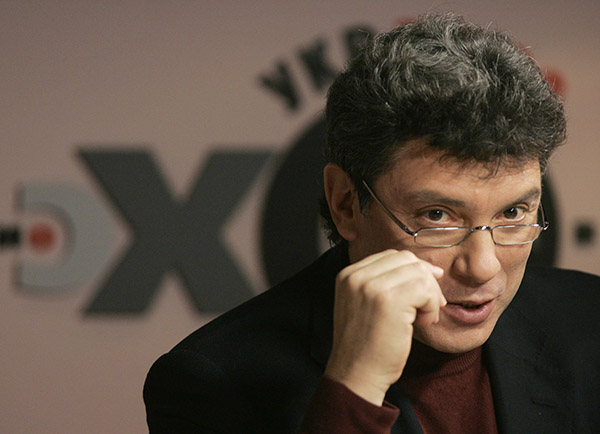 Former deputy prime minister and Union of Right Forces (SPS) presidential candidate Boris Nemtsov speaks during an interview at Echo of Moscow radio station in Moscow in this December 26, 2007 file photo. The Russian opposition politician and former deputy prime minister Nemtsov has been shot and killed by four shots in central Moscow. [Photo/Agencies]
MOSCOW - Two suspects have been detained in relation to the murder of Russian opposition leader Boris Nemtsov, the head of the Federal Security Service Alexander Bortnikov said on Saturday.
"I would like to inform you that the work that has been conducted has resulted in two suspects in this crime being detained today. They are a Gubashev, Anzor and a Dadayev, Zaur," he said in a video posted on state TV Channel One's website.
He said they were "suspected of carrying out this crime," but it was not clear if either of the suspects was believed to have fired the shots that killed Nemtsov as he and a companion walked over a bridge near the Kremlin on Feb 28. No charges were immediately announced.
"We have reported the process to the president (Vladimir Putin), while necessary operative and investigative work will continue," he said.
According to the chief, the suspects came from the Caucasus regions, a volatile region of southern Russia plagued by violence.
The Interfax news agency quoted a source as saying that Russian law enforcement agencies traced down the two suspects after examining biological evidence found inside the car used by them at the time of the murder.
Moreover, "quite clear" images of the two suspects were obtained by examining footage of street video cameras, according to the source.
Nemtsov, 55, was shot dead near the Kremlin late on Friday as he was walking home and many European politicians and diplomats attended his funeral in Moscow on Tuesday.
The Kremlin has denied accusations that it played a role in his death.