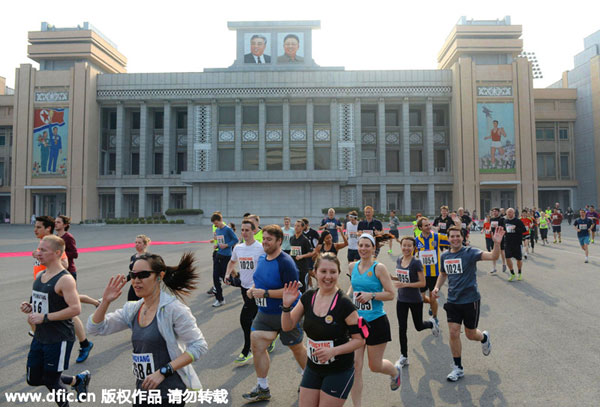 Runners leave Kim Il-sung Stadium in Pyongyang for a marathon in this file photo taken April 2014.[Photo/IC]
SEOUL - The Democratic People's Republic of Korea (DPRK) is set to reopen an international marathon to overseas runners after ending a ban on most foreigners entering the country because of fears over the deadly Ebola virus, tour companies said on Thursday.
DPRK officials had previously told travel agencies specialising in tours to the country that foreign runners were no longer allowed to participate in the marathon scheduled for April in the capital, Pyongyang.
The country closed its borders to foreign tourists last October for fear the virus might spread and imposed a strict 21-day quarantine on foreign aid workers and diplomats, who were told to stay in embassy compounds. The travel ban was lifted for most visitors this week.
"I spoke to our North Korean partners this morning who said they were in discussions with the marathon committee about reopening the event to foreign runners," Troy Collings, manager of Chinese-based Young Pioneer Tours, told Reuters.
"It looks likely we'll be able to have our groups join the race as planned. We're still awaiting full confirmation, which should come in a couple of days," Collings said.
Andrea Lee, CEO of US-based Uri Tours, said her company had received similar information.
Chinese-based Koryo Tours, which also specialises in trips to DPRK, told Reuters it was in the process of contacting and rebooking tourists who had signed up for the race.
The DPRK, thousands of miles from the epicentre of the Ebola outbreak in West Africa, has reported no cases of the virus, which has killed more than 9,000 people.