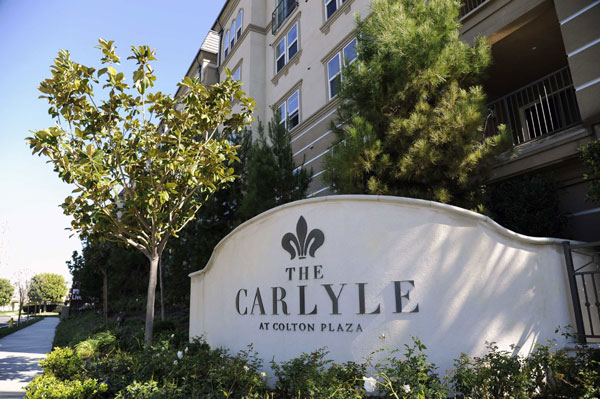 An exterior view of Carlyle Apartments, a location suspected of involvement in "maternity tourism" schemes, in Irvine March 3, 2015.[Photo/Agencies]
LOS ANGELES - Federal investigators of the Immigration and Customs Enforcement Agency (ICE) searched over two dozen locations Tuesday to investigate maternity tourists, mainly from China.
Virginia Kice, spokesperson for ICE, said in a statement that search warrants were served in the actions which began soon after the sunrise in Irvine, Rowland Heights and Walnut cities, all in Southern California.
Authorities say the so-called maternity hotels targeted in the sweep catered largely to women from China who paid $15,000 to $50,000, depending on services provided, in hopes of obtaining US citizenship for their children.
Based on the results of previous investigations, the women apparently pay cash for pre-natal medical treatment and actual delivery of their babies, according to a statement issued by the ICE.
The locations searched included apartment complexes and other sites in Los Angeles, Orange and San Bernardino counties that were suspected of housing foreign clients, ICE said.
No criminal arrests were anticipated from Tuesday's raids, but investigators were seeking evidence related to such possible criminal offenses as visa and tax fraud, money laundering and conspiracy, according to the agency.
The key draw for travelers is that the United States offers birthright citizenship. Maternity tourists believe citizenship will help their children secure a top-notch US college education and provide a sort of insurance policy should economic conditions crumble in their home country _ especially since the tourists themselves can apply for permanent residency once their American child turns 21.
US Customs and Border Protection warns on its website that officers at airports and on the border will consider a pregnant woman's due date, travel plans and medical insurance to determine whether she can enter the country.