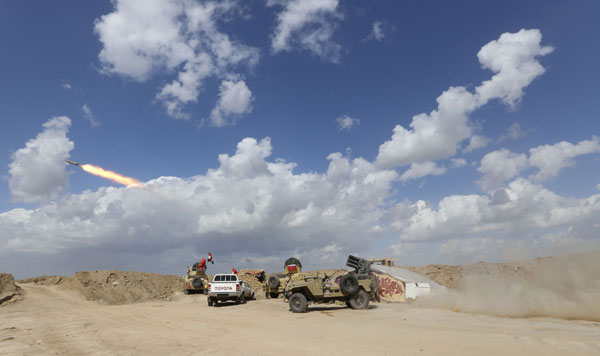 Iraqi security forces and Shi'ite fighters clash with Islamic State militants in Salahuddin province March 2, 2015.[Photo/Agencies]
TIKRIT, Iraq - Iraqi security forces on Tuesday retook control of a small town in Iraq's northern central province of Salahudin, as part of a major offensive to free the northern parts of the province, including the provincial capital city of Tikrit, a provincial security source said.
The troops and allied Sunni and Shiite militias, covered by air support, managed in the early morning hours to free the town of Himreen in southeast of Tikrit, some 170 km north of the Iraqi capital of Baghdad, the source told Xinhua on condition of anonymity.
The IS militants fled the town after a heavy clash that left at least three of them killed, while five security members were wounded, the source said, adding that the troops also foiled two suicide bomb attacks: one by a booby-trapped tanker truck and another by a Humvee vehicle.
The liberation of Himreen is part of a major offensive launched before dawn on Monday from five directions aimed at recapturing key cities and towns seized by IS in the province.