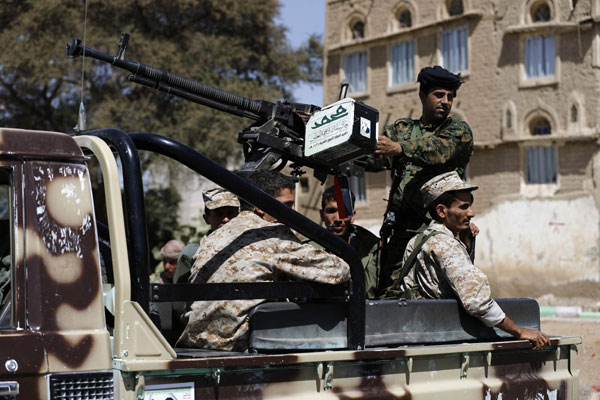 Houthi fighters ride a patrol truck in Sanaa February 10, 2015.[Photo/Agencies]
BEIJING - China has urged parties in Yemen to solve disputes via dialogue and restore national stability as a dissolution of parliament looks set to deepen the deadly chaos in the Arab country.
On Friday, Yemen's Shiite Houthi group announced its unilateral move to dissolve the parliament and form a presidential council to take over power after the country's president and premier resigned last month.
"China pays high attention to the major political changes in Yemen," Foreign Ministry spokesperson Hua Chunying told a daily press briefing on Tuesday.
"We hope parties in Yemen can take the nation's highest interests into consideration, enhance unity, avoid unilateral moves, properly solve disputes through dialogue and consultation in accordance with the Gulf Cooperation Council initiatives, the Peace and National Partnership Agreement and related UN Security Council resolutions, and forge ahead with the political transition so as to restore national stability and order as soon as possible, " Hua said.
Yemeni political factions resumed UN-brokered peace talks on Monday, hoping to end the country's long-standing political crisis.
The Shiite Houthi group, also known as Ansarullah and based in the far northern province of Saada, has been expanding its influence southward after signing a UN-sponsored peace and power-sharing deal on Sept. 21, 2014 following week-long deadly clashes.