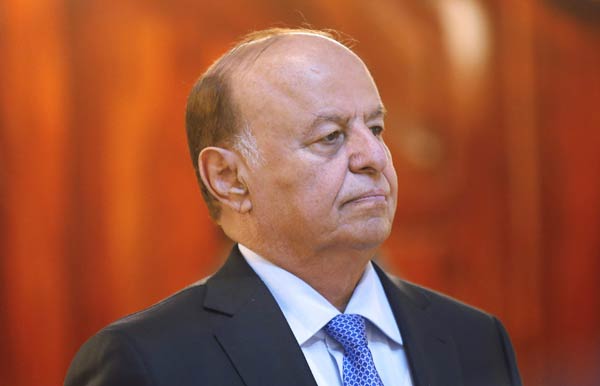 Yemen's President Abdu Rabbu Mansour Hadi stands during a reception ceremony during the holy fasting month of Ramadan at the Republican Palace in Sanaa in this July 7, 2014 file photo. [Photo/Agencies]
SANAA -- Yemeni President Abd-Rabbu Mansour Hadi and Prime Minister Khaled Bahah rendered their resignations on Thursday amid mounting pressure by the Houthi militants who have been tightening their grip on power.
Sultan al-Atwani, one of Hadi's advisors who are among the country's decision-making body, said that Hadi submitted his resignation after the Houthi group pressed him to appoint a vice president from the group.
"Houthis submitted a package of demands to the president, some of which appeared unacceptable, and then threatened to take action if their demands were not met," he said, adding that Hadi affirmed that demands and rights of all factions should be addressed in accordance with the partnership deals and mechanisms rather than by force.
Observers said the resignations of Hadi and the government add to the deepening chaos that bring more uncertainty to the country' s political transition and reconciliation.
POLITICAL MANEUVER
Houthis fought presidential guards in downtown the capital Sanaa on Monday and seized the presidential palace and key military brigades one day later.
Observers said it is likely the parliament would overturn the resignation to avoid a grave power vacuum at the moment, in fear of losing legitimacy itself, the spread of Houthi militia in cities and violence, as well as economic collapse.
The resignation could be a maneuver by Hadi so that he could get rid of Houthi pressure and ensure a deal which will pave the way for him to stay independent without Houthi interventions, they said.
Abdul Salam Muhammad, head of the ABAAD studies and research center, said Yemen is lack of legitimate authorities at a time when militia insist on the use of force to interfere in the decision-making process.
"If Hadi resigns, no one has any legitimacy even the House of Representatives, because the Gulf Initiative suspended the constitution and gave ultimate power to the president," Muhammad said.
"Yemen is facing the fate of a failed state where all scenarios will be likely including conflicts between the Houthi group and the General People's Congress of former president Ali Abdullash Saleh," he said.