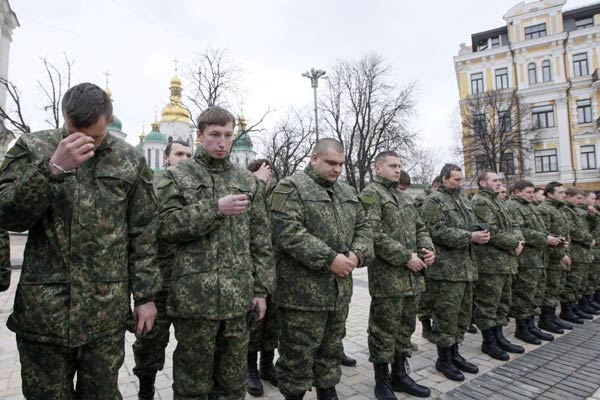 Members of the newly created Ukrainian interior ministry battalion "Saint Maria" pray during a ceremony before heading to military training, in Kiev, February 3, 2015. [Photo/Agencies] 
MUNICH -- Munich Security Conference (MSC) chairman Wolfgang Ischinger said Tuesday that NATO should not provide military aid in the Ukraine crisis.
"NATO itself should not provide military aid since this would only offer a welcome pretext to Russia to escalate and to argue again that NATO's enlargement strategy has been the source of evil all along," Ischinger wrote in an editorial published by German media Spiegel Online.
The collapse of the international order in view of the crisis in Ukraine is among key topics of the 51st MSC, from Feb 6 to 8 in Munich. Other topics will be the deteriorating situation in the Middle East, global refugees crisis as well as the fight against terrorism, according to announcement of MSC.
About 20 heads of states and governments, around 60 ministers of foreign affairs and defense, 30 CEOs of large global companies as well as parliamentary delegations are expected in Munich.
Among them are the Chinese State Councilor Yang Jiechi, German Federal Chancellor Angela Merkel, the Russian Minister of Foreign Affairs Sergey Lavrov, NATO Secretary General Jens Stoltenberg and the President of the European Parliament Martin Schulz.
"The solution to the conflict in Ukraine can not be a German task," the 68-year-old chairman said, adding "the solution to the Ukraine conflict has to be a European or transatlantic task together with the United States."
Ischinger hoped that the day will come when all sides understand that constructing a comprehensive Euro-Atlantic security community, and a common economic space, was a good idea in the first place, and should be pursued in the interests of all.