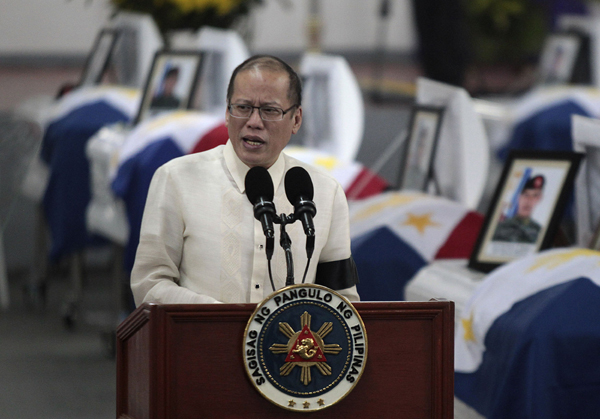 Philippine President Benigno Aquino delivers a speech in front of the caskets of the slain members of the Special Action Force (SAF) who were killed in Sunday's clash with terrorist members, during a service inside a police headquarters in Taguig city, south of Manila January 30, 2015. [Photo/Agencies]
MANILA - Following the brutal killing of more than 40 police commandos, Philippine President Benigno Aquino III vowed on Friday to capture a Jemaah Islamiyah (JI) bomb expert who managed to escape the authorities' hunt during the clash in the southern province of Maguindanao.
Aquino assured that a more well-planned operation was underway to arrest and capture terrorist member Abdul Basit Usman during the commemoration for the slain members of the Special Action Force (SAF) of the Philippine National Police (PNP) at Camp Bagong Diwa in Taguig City.
"Rest assured that the second target that we failed to arrest before will be caught," said Aquino.
Usman, an alleged Filipino bomb-maker who is on the watch list of the United States, has a bounty of $1 million  on his head.
On Sunday, police commandos launched a top-secret operation to arrest Usman and Malaysian bomb-maker Zulkipli Bin Hir, also known as "Marwan." They clashed fiercely with alleged members of the Bangsamoro Islamic Freedom Fighters (BIFF) and Moro Islamic Liberation Front (MILF).
Marwan, who is wanted by a 5-million-US dollars bounty and the main target of the operation, was reportedly killed.
Aquino vowed to give justice for the fallen cops as he promised financial and other important assistance for their families.