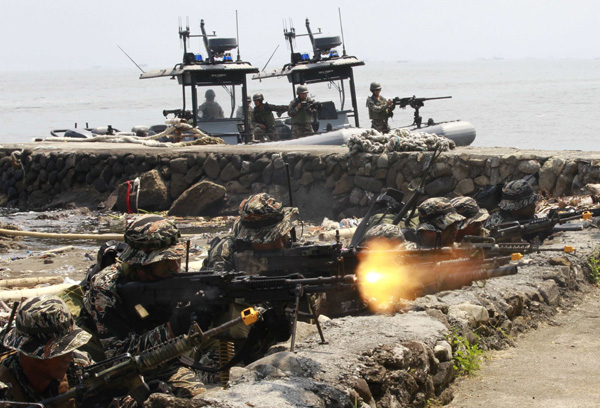 Philippine Navy Seals fire weapons as part of their training at the Philippine Navy headquarters in Sangley Point, Cavite city, south of Manila September 26, 2014. [Photo/Agencies]
MANILA - Naval exercises involving around 4,700 Filipino and US troops kicked off on Monday in the western Philippine province of Palawan.
The 12-day training exercise, dubbed as the Philippine Amphibious Landing Exercise (PHIBLEX), was formally opened at the headquarters of the Naval Forces West at Naval Station Apolinario Jalandoon in Puerto Princesa City.
Captain Reyson Talingdan, spokesman of the 3rd Marine Brigade, said two field training activities - amphibious assault vehicle training and boat operations - will be held at the Sulu Sea side of Palawan from Sept 30 to Oct 2.
"This site was identified as a good area for field training. (The activities) are for training purposes only," said Talingdan.
He said the two sides will also hold table top exercise or Command Post Exercises in Puerto Princesa. Talingdan did not say the scenario in the command post exercise although the US Embassy said this has something to do with territorial defense.
In an earlier statement, the US Embassy said the command post exercise "will increase the Armed Forces of the Philippines' capability to conduct planning and effective execution of bilateral maritime security and territorial defense operations."
"The field training exercises will provide the Philippine and US Marine units multiple opportunities to continue to improve their skills while sharing best practices and enhancing an already high level of cohesion," it added.
Talingdan said, however, that the training activities in Puerto Princesa city have nothing to do with the territorial dispute involving the Philippines, China, China's Taiwan, Malaysia, Brunei and Vietnam over Nansha Islands in South China Sea.
The Philippine Navy said other activities under PHIBLEX will be held in the northern Philippine provinces of Zambales, Pampanga and Cavite.
The Americans brought two ships for the exercise - the USS Peleliu, an amphibious assault ship and USS Germantown, an amphibious dock landing ship. The ships arrived in Subic last Saturday.
PHIBLEX, one of the high-profile military exercises conducted by the US and Philippines under the Mutual Defense Treaty and Visiting Forces Agreement, will run through Oct 10.