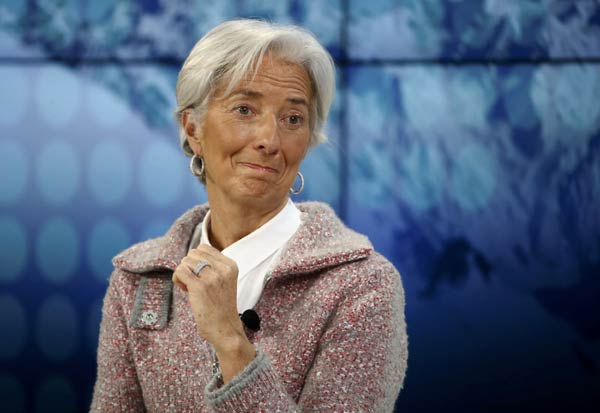 Christine Lagarde, Managing Director of the International Monetary Fund (IMF) reacts during the session 'The BBC World Debate: A Richer World, but for Whom?' in the Swiss mountain resort of Davos January 23, 2015. [Photo/Agencies]
WASHINGTON -- The International Monetary Fund (IMF) is ready to continue supporting Greece and looks forward to talks with Greece's new government, IMF chief Christine Lagarde said in a statement Monday.
The statement came following the anti-bailout Radical Left SYRIZA party leader Alexis Tsipras was sworn in Monday as Greece's new Prime Minister to head a coalition government after winning Sunday's national elections.
In his first statement as a winner of the elections Sunday night, Tsipras promised there would be no confrontation and risk of a Greek default and exit from the euro zone, but a mutual beneficial agreement on the management of the Greek debt load.
In late December, the IMF said the discussions with the Greek authorities on concluding bailout review will resume only after a new government is in place.
The 6th review of the IMF's four-year, 28 billion euro loan program for Greece, is part of a much larger joint IMF-European Commission-European Central Bank financial rescue and aims at ensuring the government is meeting particular budget and reform targets before releasing a new tranche of the loan. Greece's talks with its bailout creditors have been stalled for months amid disagreements over required new spending cuts.