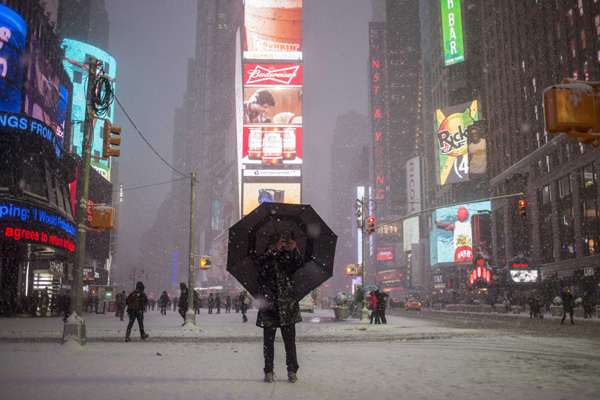 A man stands under an umbrella while photographing a snow storm in Times Square, New York, January 26, 2015. [Photo/Agencies]
He announced that a tractor trailer ban will be in effect on major state highways beginning at 4 pm Monday, and the State is considering a full travel ban on roads and bridges as well as the potential closing of public transit networks in affected areas beginning at 11 pm.
Cuomo said New York City will have limited subway service after 7 or 8 pm because of the storm, and urging commuters to get home early, anticipating major disruptions on mass transit and the roads.
New York City public schools will be closed Tuesday, announced New York City Mayor Bill de Blasio on Monday. All after-school activities and programs scheduled for Monday have also been canceled.
New York City's streets will only be available to emergency vehicles starting at 11 pm and that will continue until the situation is considered safe, de Blasio said.
New Yorkers are encouraged to sign up for Notify NYC, the City' s free emergency notification system. Through Notify NYC, New Yorkers can receive phone calls, text messages, and/or emails alerts about severe weather events and other emergencies.
New Yorkers are also notified to call 311 or contact 311 online for non-emergency situations, and call 911 if in immediate danger.
In addition, they are advised to stay out of New York City parks during the storm for their safety. City parks will be closed at 6 pm The city's Department of Parks & Recreation will be tracking downed trees and tree limbs throughout the city.