To Rachel Cooper, it's important that young Chinese performers have a chance to connect with foreign audiences.
"One can talk about the kind of soft diplomacy component, but on some level, it's about artists meeting their audiences, and those audiences being not only in one place, but really in a much larger network," Cooper, director of global performing arts at the Asia Society, told China Daily.
"That idea of providing a platform where people can learn more about what's happening in China - in this case, in China today - is very critical."
That was the impetus for a Shanghai arts festival to bring its latest project showcasing Chinese youth performers to New York for the first time on Tuesday at the Asia Society.
Three performances were commissioned by the Rising Artists Works (RAW) project, part of the China Shanghai International Arts Festival, and presented in New York by Asia Society and PerformanceSpace 122. The show, Shanghai/New York: Future Histories, is part of the COIL 2015, Performance Space's annual festival.
"This show is about a new generation of artists - it's about new work and it's about artwork that's really grounded in their own local situation," Cooper said.
"So in this case, we're talking about artists that are creating new history - future history. They're creating work that will become the standard, that will become important 10 years from now, 15 years from now," she said.
The RAW series is in its fourth year, though this is the first time any of the works commissioned have been performed in the US. Cooper said that the Asia Society wanted to showcase more youth art culture, and that awareness of performance art from China is still low in the United States, something that the non-profit organization hopes will change.
The three pieces performed were Qin Yi's Mirror Mind, Zulan's Death and the Maiden and Sam Wu's Dolphin Song.
Wu, a 19-year-old studying music at Harvard University, told China Daily prior to the performance that he had composed his piece as a high school senior and wanted to bring attention to the recent extinction of white dolphins in the Yangtze River.
"The reason why I really wanted to use music to tell this story is because this story represents to me and to all of us the traditional sense of harmony between nature and humans — this respect for wild animals and for the ecosystem," he said.
"Because of construction along the river and pollution and other factors, the habitat was lost. My argument is that the loss of this species is not just a loss for the ecosystem, it's also a cultural loss because it's a loss of fisherman culture, the original culture of respecting nature and knowing how to live in harmony with nature," he said.
Wu said that he hopes audiences will see the huge potential of Chinese performers and consider his work beyond just having "Chinese elements and contemporary Chinese classical elements".
Dolphin Song has been nominated for the 2014 Morton Gould Young Composer Award from the American Society of Composers, Authors and Publishers.
"I want to really explore how using music, I can make certain statements, than if I just used words," he said. "I want my music make things more relevant to the audience so that they feel with their heart and they can think more in retrospect of the issues that my music tries to deal with."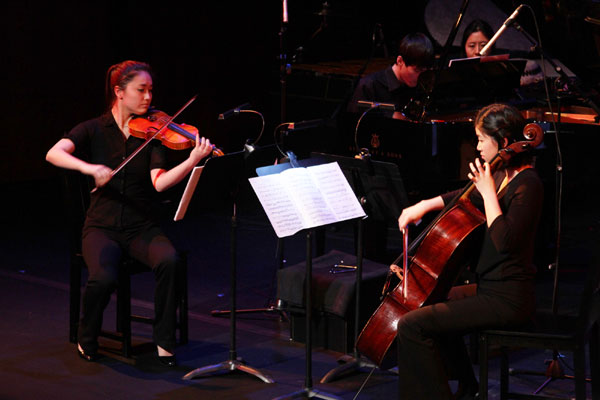 Performers playing composer Sam Wu's "Dolphin Song" at the Asia Society in New York on Tuesday. Amy He / China Daily.
amyhe@chinadailyusa.com