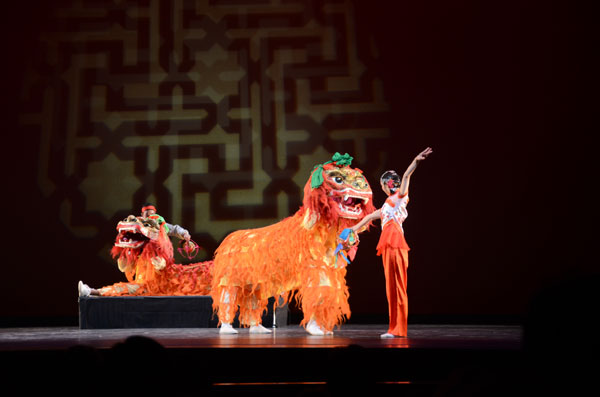 Performers at Nai-Ni Chen Dance Company amaze viewers at Brooklyn Center for Performing Arts in New York on Jan 25. Lu Huqiuan / For China Daily 
One of the top Chinese-American-owned dance groups in the US staged a celebration of the Chinese Lunar New Year by combining Chinese traditional dances with Western styles.
Nai-Ni Chen Dance Company performed its second Lunar New Year Celebration at the Brooklyn Center for Performing Arts on Sunday. Founded in 1988, the group, whose members are ethnically diverse ranging from China to Italy,aims to bridge the gap between Eastern and Western culture, something they did gracefully in this show.
The performance started with a salute to Chinese Lunar New Year with Double Lions Welcoming Spring,a version of the popular Lion Dance in China with interaction between the lion character and the other dancers.
Next was an excerpt fromPeach Flower Landscape,a dance drama portraying a peaceful agricultural community living in perfect harmony, signifying the coming Year of the Sheep in the Chinese zodiac. The sheepsignifies quietness, gentleness and peace in Chinese culture.
"It has a beautiful scene at sunset, and dancers wear gold, just like peace flowers in the golden sunlight,"said Nai-Ni Chen, the dance company's founder and choreographer. "That's why I choose this program. It talks about a peaceful land without war."
The dance drama was also typical in Chen's combination of Western and Oriental culture. The choreography was based on a story written by Tao Yuanming, a Chinese poet from the 4th century. Dancers used techniques fromtaichi to control their breathing and movement.
"Look at how dancers' wrist joints make different gestures and movements. That's purely Chinese,"said Chen. "Western dancers are not as mellow as Chinese, they wouldn't move smaller joints in the body."
"Unbelievable,"said audience member Diane Sears, as the 100-minute show alternated between Chinese tradition and Western contemporary.
After Peach Flower Landscape came dances popular in north and northeastern China for the Gods' blessings for a good harvest and traditional street performances from central China.
Also included in the program was Whirlwind, whose Western-style choreography was inspired by the Silk Road — from Buddhist sculptures in northwestern China to the beauty of India and Central Asia.
About a dozen guest artists from China took part in the performance. Ma Xingye amazed non-Chinese-speaking viewers with his kuaiban or traditional Chinese rap accompanied by percussion from bamboo chips. He could utter around 450 syllables a minute and it needed no translation to be appreciated.
The show concluded with a dragon dance that drew cheers from the audience, more than half of whom were non-Asian.
Following its Sunday premier, the company will stage New Year's-themed school time performances on Monday at Brooklyn College and Wednesday and Thursday at Queens College this week. Another performance is scheduled for February 7 at the New Jersey Performing Arts Center.
The performance is part of the Happy Chinese New Year series sponsored by China's Ministry of Culture, a campaign to celebrate Chinese New Year all over the world, said Wu Zhao, a consul of the Consulate General of China in New York.In addition, China Central Academy of Fine Arts will display works of Chinese artists at Lincoln Center on Feb 17. China's star violinist Tian Jiaxin is expected to perform at Carnegie Hall on Feb 18, Lunar New Year's Eve, and the New York Philharmonic will team up with Chinese musicians for a concert on Feb 24.
Lu Huiquan in New York contributed to this report.