NY Philharmonic to note Lunar New Year
The New York Philharmonic will once again be celebrating the Lunar New Year with a performance featuring Chinese composers and musicians at Avery Fisher Hall at Lincoln Center.
It will be the fourth consecutive season that the New York Philharmonic will hold a Lunar New Year concert and gala.
The Feb 24 performance, presented with CAMI Music, will be conducted by Long Yu, the musical director of the Shanghai Symphony Orchestra and the chief conductor of the China Philharmonic Orchestra.
"The Chinese-American community in New York and in our country is a vital part of the fabric of our community," Ed Yim, vice-president of artistic planning for the New York Philharmonic, told China Daily.
"The chance to celebrate the culture and traditions of China provides an opportunity to recognize the increasing importance of this country, and it is a wonderful complement to our touring schedule and our very exciting collaboration with the Shanghai Symphony Orchestra and Shanghai Conservatory of Music to create the Shanghai Orchestra Academy," he said.
Cellist Yo-Yo Ma and sheng player Wu Tong will be the program's soloists, performing the US premiere of Zhao Lin's Duo for the cello, sheng and orchestra, a piece written for Ma and Wu. The sheng, one of China's oldest instruments, is a wind instrument made of vertical pipes.
Wu also will be performing Yan Haideng's Jin Diao for the sheng and orchestra, as well as selections from Alexander Borodin's Prince Igor. Gulinaer Yiming, an aijieke player, will be performing Fantasia themes by Mukamu. The aijieke is a traditional Chinese bowed instrument, typically used in Xinjiang. Vocalist Lei Jia, making her Lincoln Center debut, will perform Chinese folk songs.
Long has conducted the annual concert every year since the program's inception in 2012, having played a "central role" in the New York Philharmonic's establishment of the Shanghai Orchestra Academy and Residency, which is part of the New York Philharmonic Global Academy, the institution said in a statement on Jan 13.
"We worked with Long Yu when he conducted the Shanghai Symphony Orchestra in Central Park during the 2010 Concerts in the Parks," Yim said. "This event led to discussions about how we could work together even more closely, which resulted in our Global Academy collaboration in Shanghai, featuring both performance and education, as well as to Maestro Long Yu's annual appearances at our Chinese New Year Concert and Gala."
This year's events will include a free outdoor dragon-dance performance from the Nai-Ni Chen Dance Company, as well as public school students from the New York-based National Dance Institute performing folk-inspired dances.
amyhe@chinadailyusa.com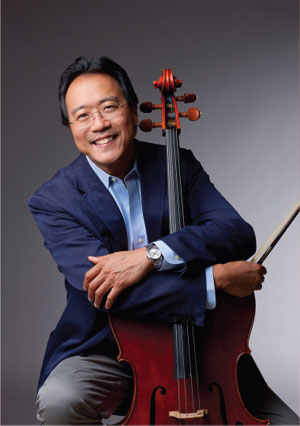 Cellist Yo-Yo Ma will be one of the artists performing on Feb 24 at the New York Philharmonic for the Lunar New Year.