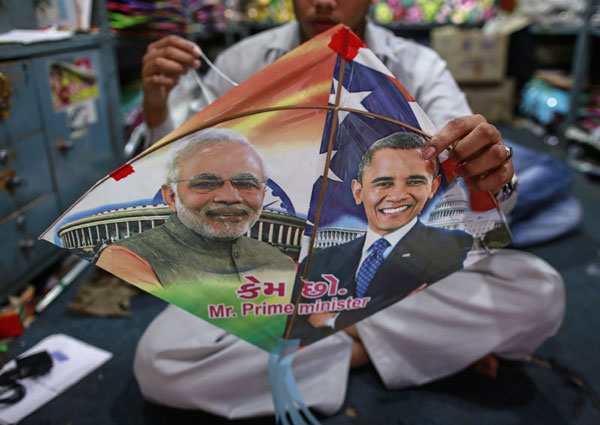 An employee ties threads on a kite, with portraits of Indian Prime Minister Narendra Modi (L) and US President Barack Obama, ahead of Obama's visit, in Mumbai January 23, 2015.[Photo/Agencies]
NEW DELHI - US President Barack Obama will cut short his visit to India on Tuesday to fly to Saudi Arabia, the White House said on Saturday.
Obama will meet with new Saudi King Salman to pay respects after the death of King Abdullah.
Obama is scheduled to arrive in New Delhi on Sunday where he will meet with Prime Minister Narendra Modi and attend the Republic Day parade.
Obama's early departure from India would cause him to skip a planned excursion to the Taj Mahal, a 17th century mausoleum that is one of the world's architectural wonders.
The White House had originally planned that US Vice President Joe Biden would lead a delegation to Saudi Arabia, but now that Obama will travel to Riyadh, Biden will remain in Washington.
King Abdullah died on Friday after a short illness and has been succeeded by his elderly brother Salman.