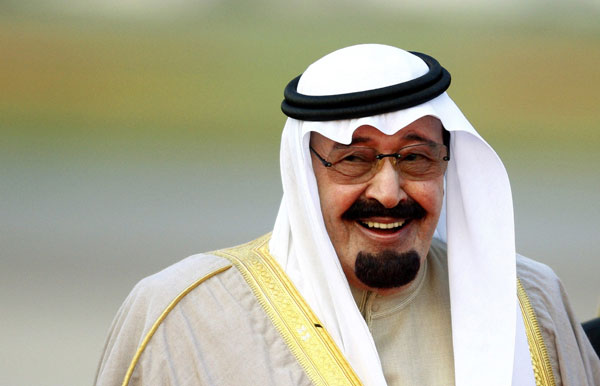 Saudi Arabia's King Abdullah bin Abdulaziz arrives at Heathrow Airport in west London, in this Oct 29, 2007 file photo.[Photo/Agencies]
RIYADH - Saudi King Abdullah has died and his half-brother Salman has become the new ruler, the Royal Court announced Friday. Prince Muqrin was declared new Crown Prince.
"With great sorrow and grief His Highness Salman bin Abdulaziz Al Saud and all members of the family and the nation mourn the Custodian of the Two Holy Mosques King Abdullah bin Abdulaziz, who passed away at exactly 1 am this morning (2200 GMT Thursday)," the Saudi Royal court statement said.
Abdullah, born in 1924, was hospitalized in December for pneumonia and had been breathing with aid. On Jan. 2, the Royal Court announced that he was on temporary ventilator for respiratory infection.
Funeral prayers will be held later in the day following afternoon prayers at Imam Turki Bin Abdullah Grand Mosque in the capital Riyadh.
Former Crown Prince Salman bin Abdulaziz Al Saud received the pledge of allegiance as the country's king from members of the royal family. After that, Prince Muqrin bin Abdulaziz received the pledge of allegiance as crown prince.
Both King Salman and Crown Prince Muqrin will receive pledges of allegiance from citizens on Friday evening.
The news of Abdullah's death spurred oil prices in main trading markets around the world, which had lost more than half their value since June 2014, when they were sitting at more than 100 US dollars a barrel.