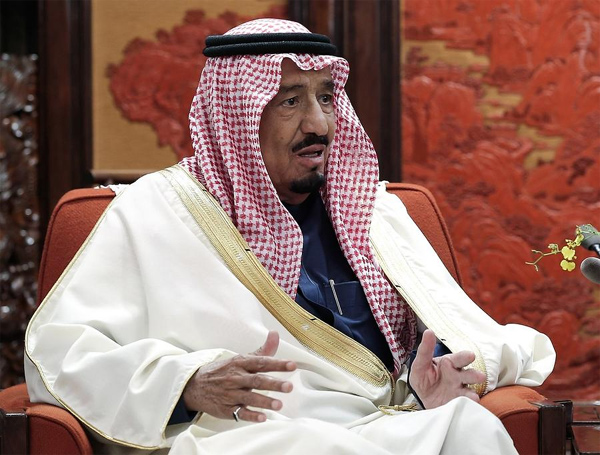 Saudi Arabia's Crown Prince Salman bin Abdul Aziz al-Saud meets with Chinese Premier Li Keqiang at Ziguangge Pavilion in the Zhongnanhai leaders' compound in Beijing in this file photo from March 14, 2014. [Photo/Agencies]
US benchmark West Texas Intermediate (WTI) for March delivery soared as much as 3.1 percent in New York, while Brent crude for March jumped 1.09 dollars, or 2.25 percent, to 49.61 dollars.
The price spikes come after months of sharp falls in the energy markets as soaring supplies clash with slowing demand.
Saudi Arabia, the main producer in the Organization of the Petroleum Exporting Countries (OPEC), has rejected calls from some OPEC members to slash output, preferring instead to lower prices.
OPEC's decision in late November not to cut production levels despite an oversupply accelerated the fall in oil prices.
Selected as crown prince in 1982, Abdullah had been responsible for the day-to-day running of the country after late King Fahd suffered a stroke in 1995.
He was seen as the main force behind the unprecedented reforms in the past years, including the first communal elections and giving women new professional career choices.
Salman was appointed as crown prince in 2012 after the death of Saudi Arabia's heir apparent and interior minister prince Nayef bin Abdulaziz Al Saud. Salman also served as deputy premier and defense minister.