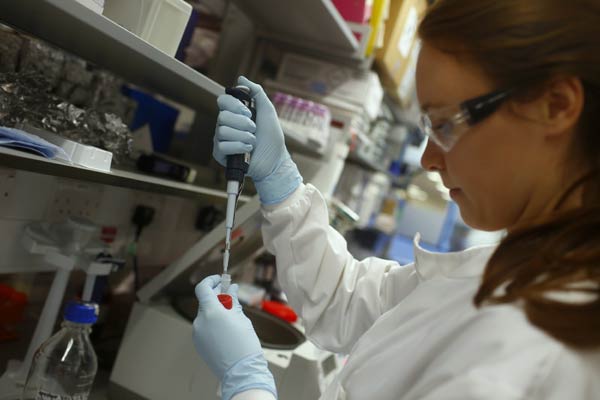 Research assistant Georgina Bowyer works on a vaccine for Ebola at The Jenner Institute in Oxford, southern England January 16, 2015. [Photo/Agencies]
WASHINGTON - Long-awaited studies of two possible Ebola vaccines are set to begin in West Africa in a couple of weeks, starting in Liberia, US officials said Thursday.
The first study will compare the two experimental vaccines with dummy shots in hopes of proving whether either really protects against the Ebola virus, which has devastated Liberia, Guinea and Sierra Leone over the past year.
A second study of one of the vaccines is being planned for Sierra Leone.
New infections are falling, which can make it harder to tell if a vaccine is effective. But clusters of cases continue and Dr. Anthony Fauci of the National Institutes of Health said the vaccines still could be useful if there's a rebound, as well as for what he called inevitable future outbreaks of Ebola.
"Unless you extinguish the very last case, it's not over `til it's over," said Fauci, director of the National Institute of Allergy and Infectious Diseases.
Fauci said up to 27,000 people could ultimately be enrolled in the larger Liberian study, starting with about 600 in the first phase. The study could last as long as a year. The Centers for Disease Control and Prevention is working with the government of Sierra Leone to design the second study, which officials said could enroll about 6,000 people.