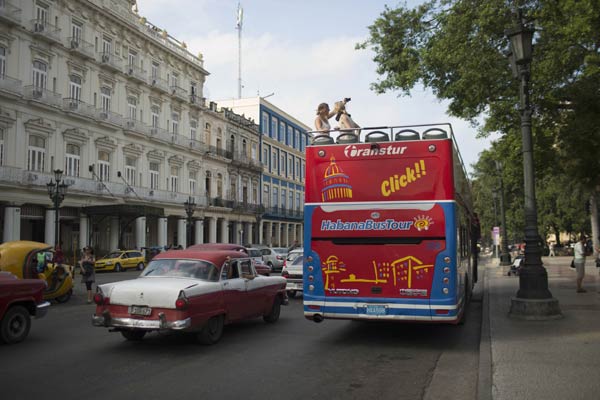 Tourists take pictures atop a double decker sightseeing bus in Havana January 15, 2015. [Photo/Agencies]
WASHINGTON - The United States rolled out a sweeping set of measures on Thursday to significantly ease the half-century-old embargo against Cuba, opening up the country to expanded travel, trade and financial activities.
Defying hardline critics in Congress, President Barack Obama made good on a commitment he made a month ago to begin loosening some US economic sanctions against the communist-ruled island as part of an effort to end decades of hostility.
The Treasury and Commerce Departments issued a package of new rules that will allow US exports of telecommunications, agricultural and construction equipment, permit expanded travel to Cuba and authorize some kinds of banking relations.
It was the first tangible US step to implement the changes Obama pledged on Dec. 17 when he and Cuban President Raul Castro announced plans to restore diplomatic relations between the old Cold War foes.
"Today's announcement takes us one step closer to replacing out-of-date policies that were not working and puts in place a policy that helps promote political and economic freedom for the Cuban people," US Treasury Secretary Jacob Lew said in a statement.
The new regulations, which take effect on Friday, will allow Americans to travel to Cuba for any of a dozen specific reasons, including family visits, education and religion, without first obtaining a special license from the US government as was previously the case.
Though general tourism will still be banned, those US travelers who do visit will be allow bring home small amounts of the Cuban cigars that are highly rated by aficionados.
The revamped rules will also make it easier for US companies to export mobile phone devices and software as well as to provide Internet services in Cuba. US airlines will be permitted to expand flights to the Caribbean island.
In an expansion of remittances allowed, Americans will now be able to send up to $8,000 to Cuba a year, up from the $2,000 previously permitted, and bring $10,000 with them when they travel to the country. They will also be able to use credit and debit cards in Cuba.