WASHINGTON - President Barack Obama hosted Mexican President Enrique Pena Nieto at the White House Tuesday, looking to his southern neighbor for help implementing changing policies on immigration and Cuba.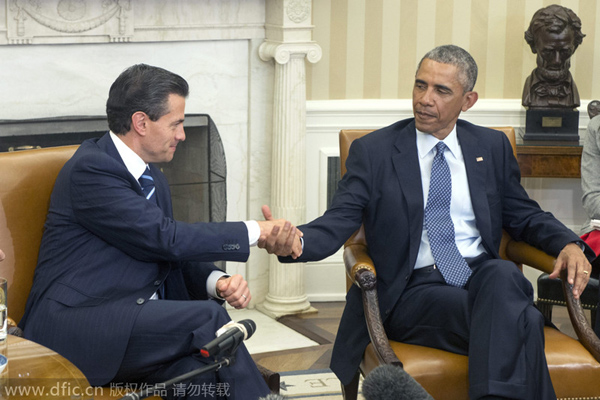 US President Barack Obama (R) and President of Mexico Enrique Pena Nieto (L) shake hands in the White House in Washington, Jan 6, 2015. [Photo/IC]
Obama wants Pena Nieto to join him in pressuring Cuba to make democratic reforms now that the White House is moving to re-establish diplomatic and commercial ties. The US-Cuba estrangement had been a point of friction with Latin American countries, including Mexico, which had normal ties with the communist island nation.
Pena Nieto also has committed to help spread the word on how some immigrants can qualify for Obama's plan to defer some 4 million deportations for immigrants in the US illegally. Two-thirds of those who are eligible are from Mexico.
Both actions from Obama in recent weeks drew praise from Pena Nieto, who may be hoping his visit to the White House can help give him a boost after a 2014 marked by scandal, violence and corruption. That includes soldiers killing 22 civilians in a questionable "shootout" and revelations that Pena Nieto and his treasury secretary live in luxury homes built and financed by a favorite government contractor.
Perhaps most notably, tens of thousands of protesters have taken to the streets to protest the Sept. 26 abduction and presumed killing of 43 college students, allegedly at the hands of local officials and police in league with a drug cartel. Pena Nieto told the country it was time to ``move beyond'' the case just weeks after their abduction, and he took a month to meet with their families.
Dozens of demonstrators protested outside the White House during the presidents' meeting, holding posters about the abducted students.
"We are very upset. We want Pena Nieto to quit and to tell us where are the 43 students. Why so much silence?" asked Ivan Almonte, a 36-year-old Mexican who has been living in the United States for 16 years. "We hope that in this visit Obama pressures Pena Nieto because there is a bloodshed in Mexico."
Human Rights Watch wrote a letter to Obama Monday urging him to press Pena Nieto to take the case and "a broader pattern of abuse and impunity" in Mexico more seriously. Obama administration officials responded that Obama plans to raise the issue of strengthening Mexico's law enforcement and judicial institutions during the visit, which includes an Oval Office meeting followed by a working lunch.
Sergio Alcocer, Mexican undersecretary for North America affairs, said he didn't expect the student abduction specifically to come up between the two presidents. Alcocer pointed out that the United States has had its own scandal and protests over the shooting of unarmed Michael Brown in Ferguson, Missouri.
"We have cases of violence in different parts of the world," Alcocer said. "Within the United States, we know there has been this kind of violence in the area of Missouri, to mention just one case."
Vice President Joe Biden hosted economic talks between Cabinet-level officials from both governments Biden began by talking about the need for the Trans-Pacific Partnership to keep up with a changing global economy. "We need new rules of the road," the vice president said.