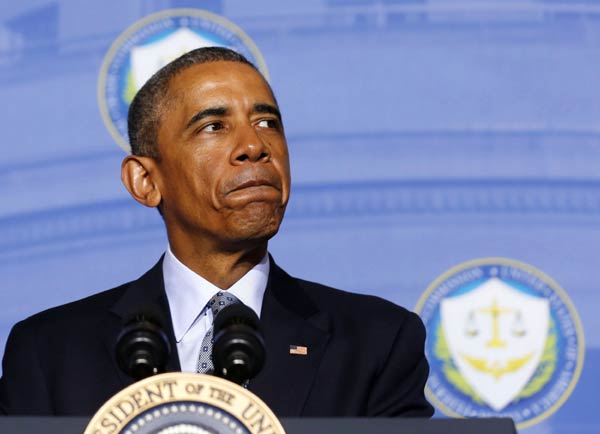 US President Barack Obama pauses as he talks about his Buy Secure Initiative on consumer financial protection while at the Federal Trade Commission in Washington, January 12, 2015. [Photo/Agencies]
WASHINGTON -- US President Barack Obama said on Monday that he will build on the steps he has taken to protect American companies, consumers and infrastructure from cyber threats, while safeguarding privacy and civil liberties.
At the Federal Trade Commission offices, Obama highlighted measures he would discuss in the State of the Union and unveiled the next steps in his comprehensive approach to enhancing consumers' security, tackling identity theft and improving privacy both online and in the classroom.
He put forward a new legislative proposal to help bring peace of mind to the tens of millions of Americans whose personal and financial information has been compromised in a data breach.
The proposal clarifies and strengthens the obligations companies have to notify customers when their personal information has been exposed, including establishing a 30-day notification requirement from the discovery of a breach and providing companies with the certainty of a single, national standard.
To give consumers access to one of the best early indicators of identity theft as well as an opportunity to improve their credit health, JPMorganChase and Bank of America, in partnership with Fair Isaac Corporation (FICO), will join the growing list of firms making credit scores available for free to their consumer card customers
"If we are going to be connected, then we need to be protected. As Americans, we should not have to forfeit our basic privacy when we go online to do our business," Obama said.
Monday's announcements were part of a weeklong focus on privacy and cyber security by Obama ahead of his State of the Union address next week.