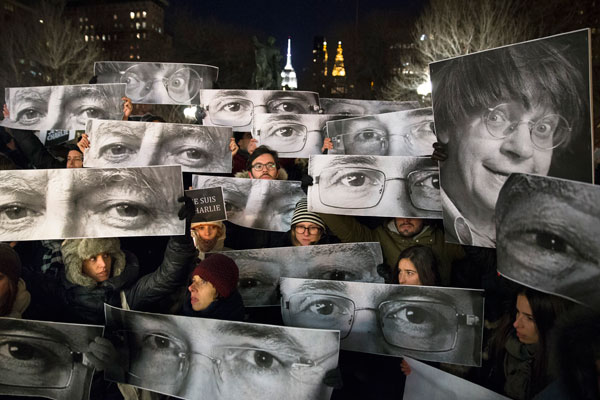 Mourners hold signs in Union Square, New York City, depicting victims' eyes during a rally in support of Charlie Hebdo, the French satirical weekly that fell victim to a terrorist attack on Wednesday. JOHN MINCHILLO / ASSOCIATED PRESS
Tensions high as police continue hunt for terror suspects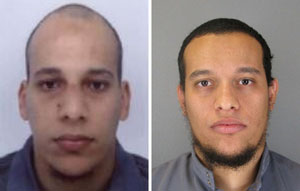 Suspects Cherif Kouachi, left, and Said Kouachi
French police hunted on Thursday for two heavily armed men - one with a terrorism conviction and a history in jihadi networks - in the methodical killing of 12 people at a satirical weekly that caricatured the Prophet Muhammad. The prime
mini
ster announced several overnight arrests and said the possibility of a new attack "is our main concern."
Tensions in Paris were high as France began a day of national mourning. The most senior security official abandoned a top-level meeting after just 10 minutes to rush to a shooting on the city's southern edge. A policewoman died and a street sweeper was wounded. The shooter remained at large.
It was not immediately clear if that shooting was linked to the attack the previous day on the weekly newspaper Charlie Hebdo, where several editors and two police officers were among the dead.
President Xi Jinping sent a letter of condolence to his French counterpart, Francois Hollande, on Thursday.
China strongly condemned the deadly terrorist attack, said Foreign Ministry spokesman Hong Lei.
France's prime minister, Manuel Valls, said the two suspects still sought in the Charlie Hebdo shootings were known to intelligence services, and the fear that they could carry out another attack "is our main concern". Valls told RTL radio there had been several arrests overnight; a security official put the arrest total at seven, speaking on condition of anonymity because the investigation was ongoing.
Valls said the suspects were likely being tracked by intelligence services, but "there is no such thing as zero risk."
Meanwhile, Charlie Hebdo will come out as scheduled next week, one of its surviving staffers said on Thursday.
Charlie Hebdo will publish next Wednesday to defiantly show that "stupidity will not win," said columnist Patrick Pelloux, adding that the remaining staff will soon meet.
"It's very hard. We are all suffering, with grief, with fear, but we will do it anyway because stupidity will not win," he said.
Pelloux added that the publication would have to be put together outside Charlie Hebdo's headquarters, which were not accessible following the massacre.
Fears have run high in Europe that jihadis trained in warfare abroad would stage attacks at home. The French suspect in a deadly attack on a Jewish museum in Belgium had returned from fighting with extremists in Syria; and the man who rampaged in the south of France in 2012, killing three soldiers and four people at a Jewish school in Toulouse, received paramilitary training in Pakistan.
"France has been struck directly in the heart of its capital, in a place where the spirit of liberty - and thus of resistance - breathed freely," Hollande said Thursday. The attack took place nearly midway between France's Bastille and the enormous Republique plaza.
One of the Charlie Hebdo suspects, Cherif Kouachi, was convicted of terrorism in 2008 for involvement in a network sending radical fighters to Iraq. He and his brother, Said, should be considered "armed and dangerous", French police said in a bulletin early Thursday, appealing for witnesses after a fruitless search in the city of Reims, in French Champagne country.
A third man, Mourad Hamyd, 18, surrendered at a police station in a small town in the eastern region after learning his name was linked to the attacks in the news and social media, said Paris prosecutor's spokeswoman Agnes Thibault-Lecuivre. She did not specify his relationship to the Kouachi brothers.
France raised its terror alert system to the maximum and bolstered security with more than 800 extra soldiers to guard media offices, places of worship, and transport and other sensitive areas.
In Britain, meanwhile, the terrorist threat level remained at "severe", Downing Street said after an emergency-response meeting on Thursday morning. Britain will increase border security checks at ports following the Paris terror attack.
Many British media organizations, such as The Guardian in London, observed a minute of silence on Thursday. Thousands of people had taken to the streets of London, Berlin and other European cities on Wednesday night to show solidarity with the victims of the Paris attack.
AP - AFP