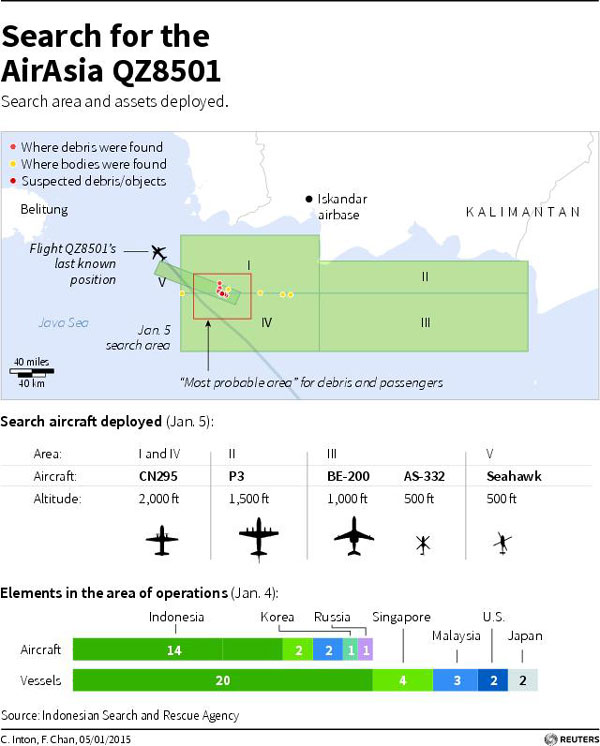 Map showing the designated search areas for the AirAsia flight QZ8501. Includes assets deployed in the search operations for wreckage and passengers.[Photo/Agencies]
JAKARTA, Indonesia - AirAsia Flight 8501 crashed into the Java Sea with 162 people on board, halfway into a Dec. 28 flight from Surabaya, Indonesia, to Singapore. Dozens of bodies have been recovered, and search teams have detected what is believed to be the plane's wreckage, but many questions remain unanswered. Here are some of them:
WHAT CAUSED THE PLANE TO GO DOWN?
The pilot told air traffic control that he was approaching threatening clouds and asked to climb above them, from 9,750 meters (32,000 feet) to 11,580 meters (38,000 feet). But with six other planes in the same airspace, permission was denied. When the tower tried to make contact four minutes later, there was no response, and the Airbus A320 was gone from the radar. The investigation will hinge on the discovery of the black boxes and the wreckage itself.
WHERE ARE THE BLACK BOXES?
With high surf preventing the deployment of ships that drag ping locators, no pings have been detected from the aircraft's all-important cockpit voice and flight data recorders. Both will provide essential information, including the plane's vertical and horizontal speeds along with engine temperature and final conversations between the captain and co-pilot. The pingers on the black boxes still have around 20 days before their batteries goes dead.