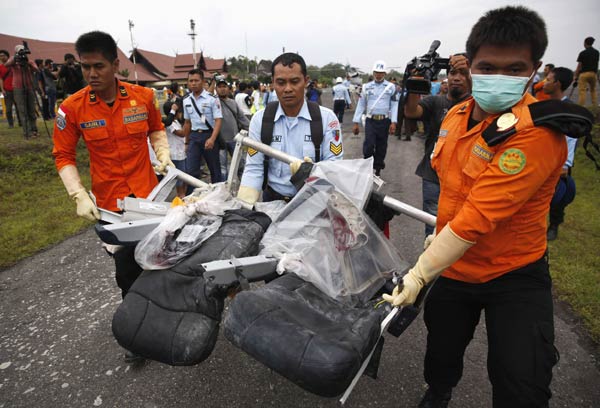 Parts of AirAsia QZ8501, recovered from the Java Sea, are carried by Indonesian Airforce and Search and Rescue crew members after they were offloaded from a US Navy helicopter at the airport in Pangkalan Bun, Central Kalimantan January 5, 2015. [Photo/Agencies]
PANGKALAN BUN/JAKARTA, Indonesia - Search teams including divers took advantage of a let-up in bad weather on Tuesday to try to reach the wreckage of an AirAsia jet that crashed nine days ago, and to recover bodies and find its black box flight recorders.
Indonesian officials believe they may have located the tail and parts of the fuselage of the Airbus A320-200 at the bottom of the Java Sea, but strong currents, high winds and big waves have hindered attempts to investigate the debris.
Flight QZ8501 plunged into the water off Borneo island on Dec. 28, about 40 minutes into a two-hour flight from Indonesia's second-biggest city of Surabaya to Singapore. There were no survivors among the 162 people on board.
Jakarta has launched a crackdown on its fast-growing aviation sector since the crash, reassigning some officials and tightening rules on pre-flight procedures in a country with a patchy reputation for air safety.
"Today's weather is friendly, the team can work," the head of Indonesia's search and rescue agency, Fransiskus Bambang Soelistyo, told a news conference in Jakarta.
Soelistyo said the multinational air and sea operation had two objectives: to recover bodies and wreckage floating in an ever-widening search area in the northern Java Sea, and to find wreckage and the plane's black box on the ocean floor.