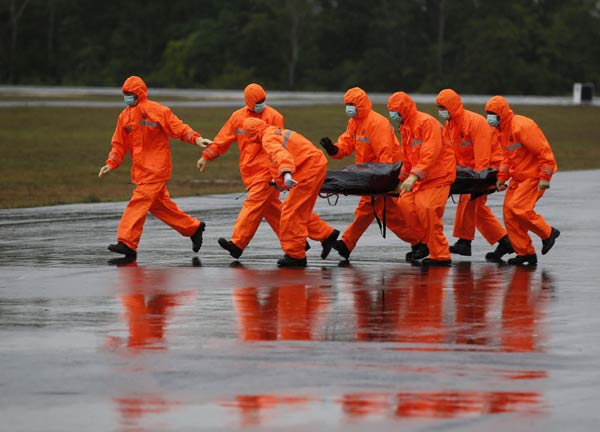 The body of an AirAsia QZ8501 passenger is carried to an ambulance from a Singapore Navy helicopter at the airbase in Pangkalan Bun, Central Kalimantan January 4, 2015. [Photo/Agencies]
SYDNEY -- The Australian Federal Police has sent five forensic experts to Indonesia in an effort to help identify the bodies of passengers on AirAsia flight QZ8501, authorities said on Tuesday.
Three Australian disaster victim identification officers and two Australian civilian forensic experts arrived in Surabaya, Indonesia's second largest city, on Tuesday.
Together, they will join forces with 260 national and international experts in matching remains with fingerprints, dental records and bone DNA to help identify the victims.
The Australian federal government also revealed that it is prepared to provide more specialist officers when and if they are required.
"Australian agencies ... remain in ongoing direct contact with their Indonesian counterparts to offer support for the Indonesian response to the loss of flight QZ8501," an Australian federal government spokesperson said on Tuesday.
"The Australian Transport Safety Bureau has agreed to an Indonesian request to provide a flight recorder specialist when needed."
The plane plunged into the Java Sea en route to Singapore on Dec. 28, killing all 162 passengers and crew members on board.
A total of 37 bodies have so far been located and are currently in the process of being identified, while the search for the remaining victims, in addition to parts of the aircraft, is ongoing.