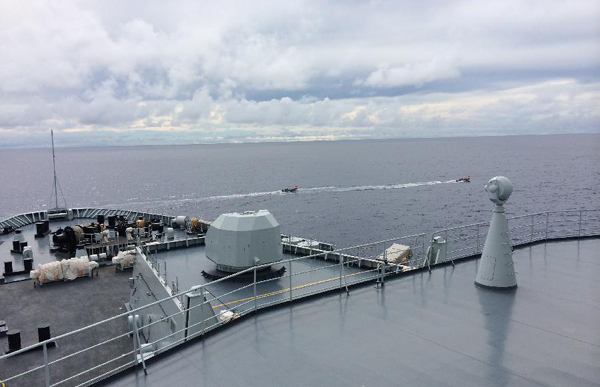 Boats sent by Chinese naval ship Jinggangshan head for suspected areas to search for the missing flight MH370 in the southern Indian Ocean, on April 6, 2014. The month-long hunt for missing Malaysia Airlines flight MH370 continued Sunday after a Chinese ship reported the detection of electronic pulse signals possibly related to missing jet in the southern Indian Ocean. [Photo/Xinhua]
ABOARD HAIXUN 01 - Four Chinese ships and a British ship on Monday continued the hunt for missing flight MH370, scanning an expanded sea area in the Indian Ocean in which one of the vessels had earlier picked up a pulse signal consistent with flight recorders.
The five vessels are the Haixun 01, which picked up the pulse signal on Friday, Donghaijiu 101, Chinese naval ships Jinggangshan and Kunlunshan, as well as the British HMS Echo.
The search began at 8 am Beijing time in a sea area of about 144 square km, which is around the point (25 degrees south latitude and 101 degrees east longitude) where the pulse signal was detected.
The four Chinese vessels were scheduled to search in the western part of the search area until 2 pm on Monday, when they would switch with the British HMS Echo to the eastern part.
On Friday, the Haixun 01 detected a pulse signal with a frequency of 37.5 kHz -- the same as those emitted by flight recorders -- in this search area, and redetected the pings for 90 seconds on Saturday just 2 km away from the original spot.
However, neither of the signals has been confirmed as related to the missing Malaysia Airlines jetliner, the China Maritime Search and Rescue Center said.
The Malaysia Airlines flight bound for Beijing from Kuala Lumpur disappeared on March 8 and more than 20 countries have gathered to work out its fate. No definitive signs have been found so far.