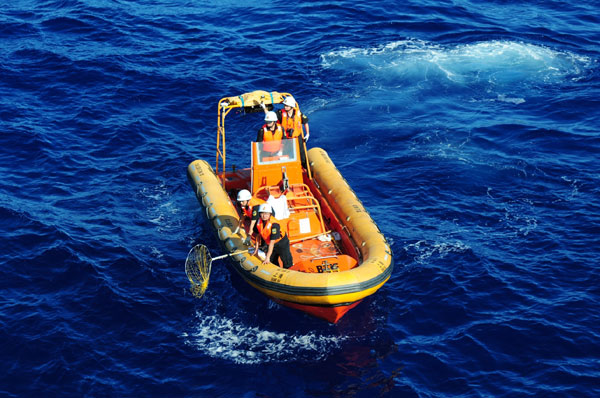 The Chinese patrol ship Haixun 01 searches for objects spotted by the Royal New Zealand Air Force's aircraft in the southern Indian Ocean on Saturday. [Photo/Xinhua]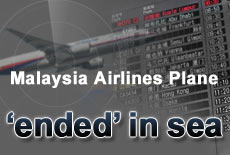 Floating items recovered by China and Australia, as planes detect more
Objects that may be related to the missing Malaysia Airlines Flight MH370 have been recovered by Chinese and Australian ships, and three more were spotted by Chinese aircraft on Saturday.
However, the retrieved items have not been confirmed to be related to MH370.
An Australian aircraft detected other items in another swathe of the search area, presumably on Saturday, the Australian Maritime Safety Authority said in a statement.
But the statement was unclear on many points, such as what objects had been collected and on which days, and when the Australian aircraft spotted the other objects. The authority did not respond to China Daily's requests for clarifications.
The Chinese People's Liberation Army Air Force Ilyushin IL-76 - which departed from an air base in Perth, Australia, at 9:05 am Australian Eastern Daylight Saving Time - marked three floating white, red and orange objects with transmitters to guide ships for retrieval during its search of the southern Indian Ocean on Saturday, Xinhua News Agency reported.
Earlier in the day, the Chinese patrol ship Haixun 01 had been deployed to locate white, or lightly colored, objects spotted by the Royal New Zealand Air Force's aircraft the day before, according to the Australian Maritime Safety Authority.
The search area for the Beijing-bound flight carrying 239 people, including 154 Chinese, that vanished soon after taking off from Kuala Lumpur on March 8 has shifted more than 1,000 kilometers northward since ships and surveillance planes have been scouring seas 2,500 km southwest of Perth.
About 250,000 square kilometers were searched by eight aircraft from China, Australia, Japan and New Zealand on Saturday. Five ships were set to join four ships already in the area on Sunday.
On Friday, new information suggested the Boeing 777-200 airliner had flown faster than believed earlier, consequently burning more fuel than previously thought. That would suggest it may have run out of fuel earlier than had been estimated.
The Malaysian government said it will take at least another nine days to search the target area.
A total of 52 objects had been spotted in the search area on Saturday, the Malaysian delegation sent to Beijing said on Saturday afternoon. But they must be collected by ships before it can be determined if they belong to the aircraft.
Passengers' families just want to know where the aircraft and their loved ones are.
"I don't care how they find the plane. I just want to see results. We (passengers' relatives) are tired of all the uncertainties," said a woman in her 50s, who said her nephew was on MH370.
A group of family representatives held a demonstration in Beijing on Saturday morning, demanding to be told the truth. Some decided to go to Kuala Lumpur to meet the Malaysian Prime Minister Najib Razak and Hishammuddin Hussein, the minister of defense and acting minister of transport, in person.
cuijia@chinadaily.com.cn