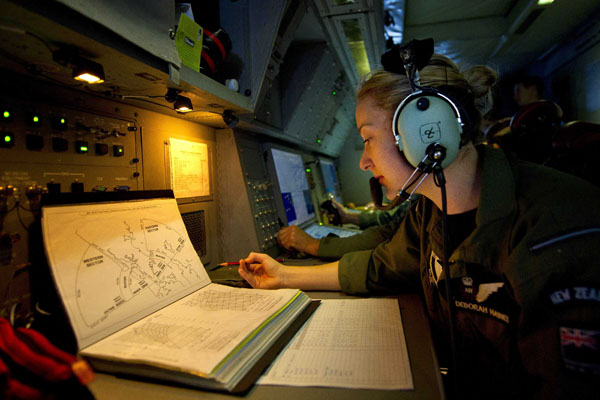 A Royal New Zealand Air Force (RNZAF) Air Warfare Officer and Information Manager, Flying Officer Deborah Haines, conducts fuel planning aboard a P-3K2 Orion maritime patrol aircraft as it flies over the southern Indian Ocean searching for missing Malaysian Airlines flight MH370 in this picture released by the Australian Defence Force March 28, 2014. [Photo/Agencies]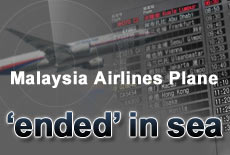 CANBERRA - Five aircraft spotted many objects of various colors during Friday's search for Malaysia Airlines flight MH370 over the southern Indian Ocean, the Australian Maritime Safety Authority (AMSA) announced.
After a day spent searching an entirely new area, the aircraft had covered 256,000 square km, said an AMSA statement.
Photographs of the objects would be assessed overnight.
The objects cannot be verified or discounted as being from MH370 until they were relocated and recovered by ships.
A Royal New Zealand Air Force (RNZAF) P3 Orion reported sighting a number of objects white or light in color and a fishing buoy.
A Royal Australian Air Force (RAAF) P3 Orion relocated the objects detected by the RNZAF Orion and reported it had seen two blue-grey rectangular objects floating in the ocean.
A second RAAF P3 Orion spotted various objects of various colors in a separate part of the search area about 546 km away.
AMSA had tasked Chinese Maritime Administration patrol ship, Haixun 01, which was in the search area and would be in a position to relocate the objects on Saturday.
Weather conditions in the area were expected to be reasonable for searching on Saturday.
The search area was shifted about 1,100 km northeast Friday on what was said to be a credible new lead.
The new search area, about 319,000 square km, is about four times bigger than the previous search area in the southern Indian Ocean and 1,100 km to the northeast.
It was also just 1,850 km due west of Perth, meaning it was in more moderate seas and closer to the search base so aircraft could spend longer over the area, AMSA and Australian Transport Safety Bureau (ATSB) officials said at a joint press conference in Canberra earlier Friday.
AMSA emergency response general manage John Young said an international air crash investigation team in Malaysia had provided updated advice that had refined the presumed flight path and determined the new area.
Ten aircraft had been tasked for Friday's search: two Royal Australian Air Force (RAAF) P3 Orions, a Japanese Coast Guard Gulfstream 5 jet, a Japanese P3 Orion, a P3 Orion and a C130 Hercules from the Republic of Korea, a New Zealand air force P3 Orion, a Chinese People's Liberation Army Air Force Ilyushin IL-76, a United States Navy P8 Poseidon aircraft and one Australian civil jet acting as a communications relay.
Six ships were relocating to the new search area including HMAS Success and five Chinese ships.