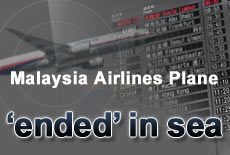 Getting to the truth of what happened to Malaysia Airlines Flight MH370 is the first priority, senior lawyers said in London, and the committee of victims' families is a powerful vehicle through which to demand fair and equal treatment from insurance companies representing the airline and aircraft.
"Sadly, the reality seems that the plane has crashed. It is vital that the black boxes are located, recovered and analyzed to get to the truth of what happened," James Healy-Pratt, partner and head of the Aviation and Travel Department of London-based Stewarts Law, told China Daily.
The law firm has helped families of passengers who were aboard Air France's flight 447, which went missing in 2009 and was found days later.
David Tang, an experienced Chinese-British lawyer and pilot, is working with Stewarts to offer legal advice to families of the Chinese passengers aboard the Malaysian aircraft.
Tang and Healy-Pratt both stressed that the family committee for MH370 will give them a single focus point to exert their views on the investigation, get to the truth and also stop similar disasters from happening again.
"We helped many families of Air France 447 in 2009, and the family association was a powerful way of the families supporting each other at this difficult time," Healy-Pratt said.
Tang and Healy-Pratt have provided support and assistance through their international legal team of US, UK and Chinese lawyers to get the family committee established.
As Malaysia Airlines' insurance entity is based in London, Healy-Pratt said, "We know that it has at least $1.5 billion for this accident, but have only set aside $250 million for passenger claims. Clearly this is not enough, and in our experience in helping families in these cases, we believe a more realistic sum to be set aside would be $900 million."
"The Chinese families will have the support of the family association in negotiations, as well as our legal and technical support in negotiating with the London aviation insurers. Those aviation insurers have already hired expert aviation lawyers to defend them," Healy-Pratt said.
Malaysia Airlines' insurers have hired an expensive team of aviation lawyers from London and Singapore to defend the airline.
"No money will ever bring anyone back from MH370, but we will be demanding fair and equal treatment for all families who lost their loved ones here," Healy-Pratt said.
Tang said families normally need three months to get compensation from insurers in an air accident, "but this time, we think we need more time as the accident of flight MH370 is very complicated".
"Also, we believe the families will be pressing for changes to airline practice by making it mandatory for live digital streaming data to be sent by every commercial airliner giving information about its precise position. Many airlines now use this technology," Healy-Pratt said.
Contact the writers at zhangchunyan@chinadaily.com.cn and cecily.liu@chinadaily.com.cn