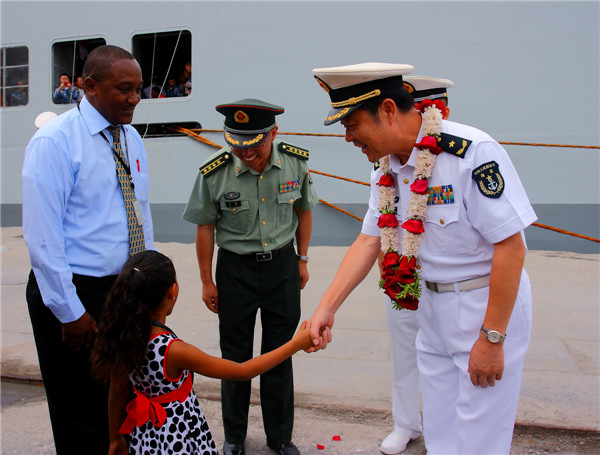 A local girl shakes hands with Jiang Zhonghua (R), commander of the 15th Chinese naval escort taskforce, at the port of Mombasa, Kenya, on Jan 2, 2014. [Photo by Liu Zhen/chinadaily.com.cn]
Two Chinese warships of the 15th Chinese naval escort taskforce docked at the port of Mombasa, Kenya in the morning on Jan 2, 2014 (Local time) and started a four-day friendly visit to this country.
Hundreds of people bedecked with national flags received the ships, included Raychelle Omamo, Cabinet Secretary for Defence of Kenya, Major General Ngewa Mukala, Commander of Kenya Navy, Ali Hassan Joho, Mombasa Governor, Liu Guangyuan, Chinese Ambassador, and also local residents and Chinese nationals.
During a colourful welcome ceremony, officials from the two nations expressed confidence on mutual cooperation between the two countries would flourish.
Raychelle Omamo said "Military exchanges between Kenya and China have continued to increase. Kenya solidified this when it sent a military attaché to Beijing in 1998.I wish at the juncture, to also appreciate the continued support by Chinese Government in the on-going modernization of the Kenya Defence Forces. This venture will go a long way not noly in inproviing the Forces' ability to ensure secutiry along the borders and its waters but also enhance Kenya's role in peace-keeping activities in Africa and beyond."
"Today, the visit to Mombasa by the Chinese navy escort fleet has the same character with Zheng He's voyages 600 years ago. It is a journey of peace, friendship and cooperation. The fleet comes not only with China's solemn promise to safeguard world peace, but also with the sincere friendship from Chinese people to Kenya people." said by Liu Guangyuan, Chinese Ambassador to Kenya. "The visit is also a part of the celebrations marking the 50th anniversary of the establishment of diplomatic ties between China and Kenya."
This is the first Chinese navy escort fleet that has visited Kenya since China started its missions in Somali waters at the end of 2008. The Task Force is composed of two ships, which are "Jing Gangshan" Landing Platform Dock 999 and "Heng Shui" Frigate 572. It has just successfully completed its escort missions in the Gulf of Aden and Somali waters and is on its journey back to China. Jiang Zhonghua, commander of the Task Force said: "In the past four months, this glorious fleet has escorted 181 ships from countries all over the world, with a success rate of 100%. The crew members have safeguarded the security and openness of the sea route for trade in Somali waters. This is a profound interpretation of China's image as a responsible power."