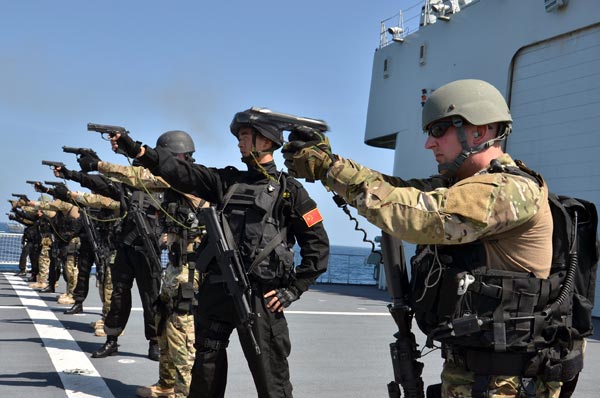 Officers from the Chinese and US navies demonstrate their shooting skills on Thursday when the two navies launched their latest anti-piracy exercise in the Gulf of Aden. SUN HAICHAO / XINHUA
Efforts show resolve to deepen military ties, avoid conflicts
The Chinese and US navies have implemented a code of conduct that covers unplanned encounters at sea.
The code, ratified earlier this year, was put into effect as the two navies launched their latest anti-piracy exercise in the Gulf of Aden on Thursday.
Analysts said the exercise was an opportunity to put the code into practice and an encouraging indication that both navies want to minimize the risk of misunderstandings.
The Chinese guided missile frigate Yuncheng and supply ship Chaohu, from the 18th escort task force of the People's Liberation Army navy, held exercises with the USS Sterret, a guided missile cruiser, off the Horn of Africa.
In April, more than 20 countries with interests in the western Pacific, including China, the United States, Japan and the Philippines, agreed unanimously on the Code for Unplanned Encounters at Sea.
The agreement was reached at the Western Pacific Naval Symposium in Qingdao, Shandong province.
The nonbinding document outlines procedures vessels should take, such as what color flare to fire in the event of unexpected contact with ships from another navy.
Stars and Stripes newspaper, which covers US military affairs, reported on Thursday that the USS Sterret and a Chinese ship would take part in "simple naval maneuvers", boarding exercises and helicopter cross-deck operations.
A US aircraft would "land on a Chinese ship and vice versa", the report said.
Rear Admiral Zhang Chuanshu, deputy chief of staff of the South China Sea Fleet and commanding officer of the escort task force, said the exercises prove the code is feasible and necessary. The excercises also helped to safeguard navigational safety in the Gulf of Aden.
Wen Bing, a researcher at the PLA Academy of Military Sciences, said the code of conduct and exercise demonstrate the resolve of both countries to deepen military ties and avoid a maritime conflict escalating due to a lack of communication.
The risks of a maritime mishap were highlighted by a near-collision between a US and Chinese warship in the South China Sea in December 2013.
Wen called for more exercises to be held under the code between different countries at different locations.
The two-day joint anti-piracy exercise was the third between China and the US in the Gulf of Aden, following drills in September 2012 and August 2013.
Pentagon spokesman Colonel Steve Warren said the exercise is intended to enhance partnership and demonstrate strength and presence in the region.
China, the US and other countries have missions in the Gulf of Aden to prevent piracy disrupting humanitarian aid and maritime trade. The area has long been plagued by Somali pirates.
The PLA navy has sent 18 convoys to the area since December 2008 and they have escorted more than 5,700 Chinese and foreign ships.