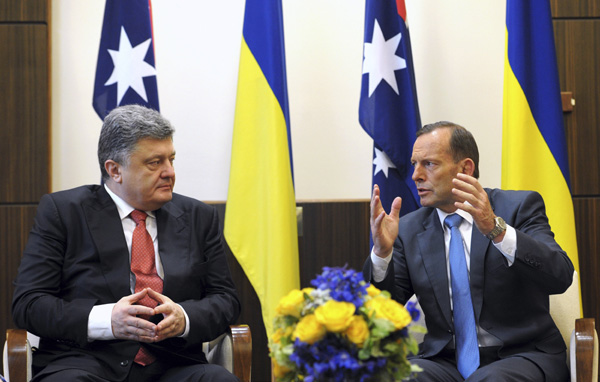 Australia's Prime Minister Tony Abbott (R) talks with Ukraine's President Petro Poroshenko during their meeting in Melbourne December 11, 2014. [Photo/Agencies]
CANBERRA - Ukrainian President Petro Poroshenko arrived in Australia on Thursday morning ahead of a two- day visit, in which he will address the MH17 tragedy with Australian leaders.
Both Poroshenko and Australian Prime Minister Tony Abbott will attend a prayer vigil for the 298 victims of the disaster in Melbourne, before discussing cooperative measures regarding the investigation of the incident.
The Malaysian Airlines aircraft was shot down in eastern Ukraine in July, killing all passengers on board, including 38 Australian residents.
Ties between the two countries have strengthened in the months following the disaster, with Australia supporting Ukraine's claims that the aircraft was gunned down by Russian-backed rebels.
Abbott has since accused Russian President Vladimir Putin of providing both the missiles that shot down the plane, in addition to military support, to the rebels.
However, Putin has constantly reiterated that Ukraine must take full responsibility for the incident.
The pair held tense discussions regarding the disaster at the recent G20 summit in Brisbane, where Abbott urged the Russian leader to "compensate and apologize" to the families of the 298 victims.
Following Poroshenko's arrival in Australia, Abbott now believes the country's relationship with Ukraine will grow further.
"I want to say thank you to President Poroshenko for the help and assistance that Ukraine and its government gave to Australia and our citizens in the aftermath of the terrible atrocity of MH17, " Abbott said in a press conference on Thursday.
"Coming from this tragedy I believe will be a strong and lasting friendship between the Australian people and the Ukrainian people."
Poroshenko also revealed that Australia is considering exporting uranium to Ukraine as the two nations prepare to undertake nuclear energy talks.
"We discussed today the possibility of cooperation in the sphere of nuclear energy,"Poroshenko said in a press conference on Thursday.
"There is the possibility for Ukraine to buy Australian uranium for our nuclear power stations."
Australia has contributed nearly $83 million to the International Monetary Fund in an effort to support Ukraine's economy, while it has donated more than $800,000 to aid projects in Ukraine through the Red Cross.
Poroshenko will be in Australia until Friday, visiting Melbourne, Sydney and Canberra during his visit.