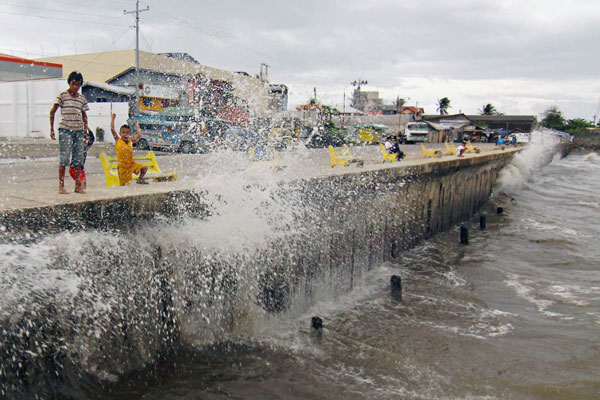 Waves, brought by Typhoon Hagupit, hit the concrete barrier along the Boulevard Seaport in Surigao City, southern Philippines December 6, 2014.[Photo/Agencies]
MANILA, Philippines - Haunted by Typhoon Haiyan's massive devastation last year, more than 600,000 people fled Philippine villages and the military went on full alert Saturday to brace for a powerful storm that was only hours away from the country's eastern coast.
Typhoon Hagupit _ Filipino for "smash" or "lash" _ was expected to slam into the central Philippines late Saturday and hammer parts of a region where Haiyan's tsunami-like storm surges and ferocious winds left more than 7,300 people dead or missing in November 2013. Hagupit weakened slightly on Saturday, but remained dangerously powerful and erratic.
"We're on red alert, so the entire armed forces is being mobilized for this typhoon," Gen. Gregorio Pio Catapang, head of the Philippines' 120,000-strong military, told a news conference after discussing last-minute preparations.
Army troops deployed to supermarkets and major roads in provinces in the typhoon's path to prevent looting and chaos and clear debris, all of which slowed the government's response last year, Catapang said.
Although it's unlikely to reach Haiyan's unprecedented strength, forecasters said Hagupit's maximum sustained winds of 175 kilometers (109 miles) per hour and gusts of 210 kph (130 mph) were strong enough to set off deadly storm surges and landslides and cause heavy damage to communities and agriculture.
With a whirling band of rain clouds spanning 600 kilometers (373 miles), Hagupit has gained speed and was moving westward at 16 kph (10 mph), according to forecasters.
In the central city of Tacloban, where Haiyan's storm surges killed thousands of people and leveled villages, news of the approaching typhoon rekindled painful memories. Many residents fled to storm shelters, a sports stadium and churches even before authorities urged them to evacuate.
"I'm scared," said Haiyan survivor Jojo Moro. "I'm praying to God not to let another disaster strike us again. We haven't recovered from the first."
The 42-year-old businessman, who lost his wife, daughter and mother last year in Tacloban, said he stocked up on sardines, instant noodles, eggs and water.
More than 600,000 people have been moved to safety, including in Tacloban. A U.N. humanitarian agency spokesman, Denis McClean, said in Geneva that it was one of the largest peacetime evacuations in Philippine history. It also was reminiscent of the evacuation of 1 million people along India's coastline before Cyclone Phailin hit in October 2013.
Nearly 100 domestic flights have been canceled and inter-island ferry services suspended, stranding thousands of people.
"We've not heard of villagers resisting to be evacuated," regional disaster-response director Blanche Gobenciong said. "Their trauma is still so fresh."
In Tacloban, residents stacked sandbags to block floodwaters. One McDonald's restaurant was closed and boarded up to prevent a repetition of Haiyan's deluge, which shattered glass panes and doors of business establishments, allowing looting to take place.
Disaster preparations widened after two agencies tracking the typhoon closely _ the U.S. military's Joint Typhoon Warning Center in Hawaii and the Philippine weather agency _ predicted different directions for Hagupit.
The U.S. agency said Hagupit (pronounced HA'-goo-pit) may veer northwest after coming inland and sweep past the southern edge of Manila, the capital city of more than 12 million people. The Philippine agency, known by its acronym PAGASA, projected a more southern path.
Regional disaster-response director Blanche Gobenciong said the unpredictable path made it harder to ascertain which areas would be hit, but added that everybody "should prepare for the worst."
"We have a zero-casualty target," she said. "Just one loss of life will really sadden us all and make us wonder what went wrong."