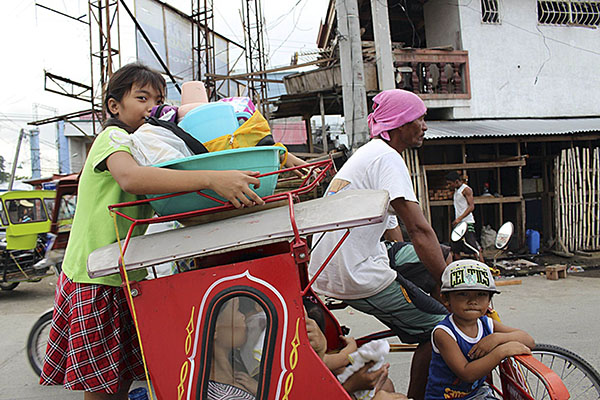 Residents with their belongings ride on a tricycle cab to an evacuation center in Tacloban city, central Philippines December 4, 2014. Schools and government offices were shut in parts of the central Philippines on Thursday and residents stocked up on supplies and food, as provinces yet to recover from last year's devastating super-typhoon Haiyan braced for another category 5 storm. Typhoon Hagupit was churning across the Pacific around 860 km (585 miles) east of the island nation on Thursday, the local weather bureau said, packing winds of up to 195 kph (120 mph) with gusts of up to 230 kph. [Photo/Agencies]
MANILA, Philippines - A ferocious and dangerously erratic typhoon blew closer to the Philippines Friday, as differing forecasts about its path - one predicting it will graze the capital Manila - prompted a much wider swath of the country to prepare for a weekend of destructive winds and rain.
Typhoon Hagupit - Filipino for "Smash" - was expected to blast in from the Pacific Ocean into central Philippines late Saturday, lashing parts of a region that was devastated by last year's Typhoon Haiyan and left more than 7,300 people dead and missing. Still, the good news was that the typhoon was weakening as it blew closer to the coast.
"I'm scared," said Haiyan survivor Jojo Moro. "I'm praying to God not to let another disaster strike us again. We haven't recovered from the first."
The 42-year-old businessman who lost his wife, daughter and mother last year in central Tacloban city, said he stocked up on sardines, instant noodles, eggs and water.
At least 47 of the country's 81 provinces are considered potentially at high risk from Hagupit, officials said. The first one in its path is the Eastern Samar province where it will make landfall. It is then expected to cut across central islands along a route north. But its path thereafter is debatable.
The computer models of the two agencies tracking the typhoon closely - the US military's Joint Typhoon Warning Center in Hawaii and the Philippine weather agency - showed different tracks for the typhoon.
The US agency said Hagupit (pronounced HA'-goo-pit) may veer north after coming inland and sweep past the southern edge of the capital Manila, a city of more than 12 million people. The Philippine agency, known by its acronym PAGASA, projected a more southern track. But both tracks appeared to be coming closer together as the landfall time approaches.
Also, both agencies said the typhoon is slowly losing strength. PAGASA said it is now packing winds of 195 kilometers (121 miles) per hour and gusts of 230 kph (143 mph). The US center in Hawaii downgraded the typhoon's status from a super typhoon and said it was expected to continue losing strength with winds dropping to 175 kph (108 mph) by Sunday morning.
"Although it's been reported that the typhoon has lost strength, it doesn't mean that our readiness will also weaken," said Alexander Pama, who heads the country's disaster-response agency.
Haunted by the country's ordeal with Haiyan, which caught people unprepared to deal with its ferocity, authorities and villagers seemed readier this time to respond to the impending crisis.
Dozens of domestic flights were canceled and inter-island ferry services were suspended.
In Tacloban, the central city where Haiyan's tsunami-like storm surges left thousands dead and wiped out entire villages, and in outlying provinces, tens of thousands of residents have been moved from high-risk villages to emergency shelters.
"We've not heard of villagers resisting to be evacuated," regional disaster-response director Blanche Gobenciong said. "Their trauma is still so fresh."
Gobenciong said the unpredictable path of the typhoon made it harder to ascertain which areas would be hit.
"We have a zero-casualty target," she said. "Just one loss of life will really sadden us all and make us wonder what went wrong."
"We have alerted the people of Manila and we're ready,"
Hagupit's erratic behavior prompted the government to call an emergency meeting of mayors of metropolitan Manila. Defense Secretary Voltaire Gazmin said he'd rather "over-prepare than under-prepare."
Manila Mayor Joseph Estrada said that authorities have alerted residents. "We are ready," he said, but pointed out that "these typhoons change direction all the time."
Haiyan demolished about 1 million houses and displaced some 4 million people in the central Philippines. Hundreds of residents still living in tents in Tacloban have been prioritized in the ongoing evacuation.
Dr Steven Godby, an expert in natural hazards at Nottingham Trent University in Nottingham, said the Philippines experiences five to 10 cyclones a year on an average, the most hitting any country.
He said the right oceanic conditions to create deadly typhoons "come together in the western Pacific and put the Philippines in the firing line as a result."
Cyclones also need a force "to give them an initial rotation and this is provided by the spin of the Earth through the Coriolis force, but in a narrow 'sweet spot' of between 5-12o north and south of the equator," he said.
"Isolated island groups like the Philippines are particularly vulnerable to tropical cyclones and the threats come from the high winds, storm surge and heavy rains these storms bring," he said.