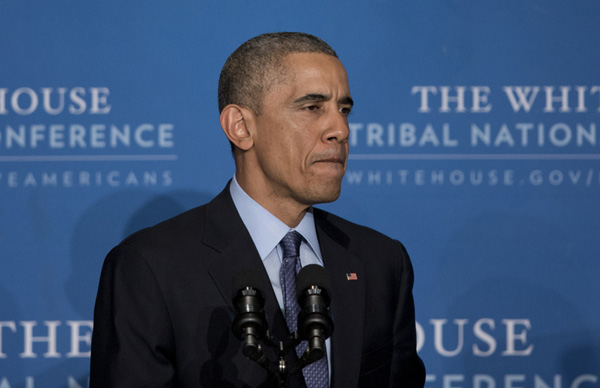 President Barack Obama pauses as he speaks at the 2014 White House Tribal Nations Conference at the Capital Hilton in Washington, Dec 3, 2014, about how a grand jury cleared a white New York City police officer in the videotaped chokehold death of an unarmed black man who had been stopped on suspicion of selling loose, untaxed cigarettes. [Photo/IC]
President Barack Obama, while not directly commenting on the case, said the grand jury decision spoke to "the concern on the part of too many minority communities that law enforcement is not working with them and dealing with them in a fair way.
"We are not going to let up until we see a strengthening of trust and strengthening of accountability that exists between our communities and our law enforcement," he said.
The grand jury decision poses the biggest challenge yet for New York Mayor Bill de Blasio, who came into office in January promising to improve relations between black New Yorkers and the police department.
On Wednesday, he praised New York police commissioner Bill Bratton's efforts to bridge the divide. However, he also said he had warned his African-American son to take "special care in any encounters with police officers."
The district attorney for Staten Island, Daniel Donovan, announced the grand jury's decision not to indict the police officer, Daniel Pantaleo, who placed Garner in a chokehold.
"It is never my intention to harm anyone and I feel very bad about the death of Mr. Garner," Pantaleo said in a statement released by the Patrolmen's Benevolent Association union.
Pantaleo testified at the grand jury. It is rare for defendants to testify in such proceedings but prosecutors have discretion to decide which witnesses to call and can choose to put a police officer accused of misconduct on the stand.
Benjamin Carr, the stepfather of Garner, said he was distraught over the verdict. "The justice system didn't do what it was supposed to do," he said at the site where Garner was apprehended by police and a makeshift memorial now stands.
Tempers flared at the site as about a dozen protesters expressed their anger at the grand jury's decision. Daniel Skelton, a black 40-year-old banker, spoke loudly as he voiced his outrage at the grand jury verdict. "A black man's life just don't matter in this country," he said.