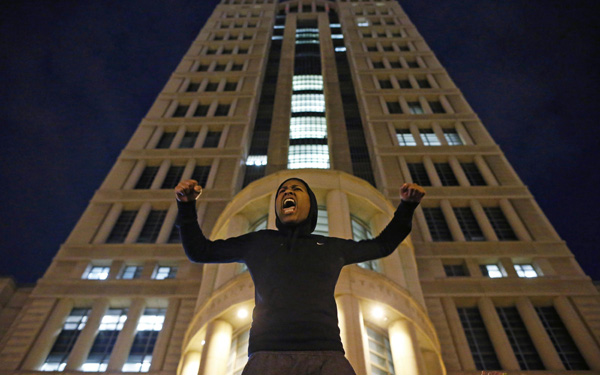 A protester demonstrates against police violence and the grand jury decision in the Eric Garner case, in front of the Thomas F. Eagleton US Courthouse in St. Louis, Missouri December 3, 2014. [Photo/Agencies]
NEW YORK - A New York City grand jury decision not to charge a white police officer who killed an unarmed black man named Eric Garner with a chokehold sparked outrage and protests on Wednesday.
US Attorney General Eric Holder said on Wednesday the Justice Department was launching a federal civil rights investigation into the death.
Eric Garner, a 43-year-old father of six, was accused of illegally selling cigarettes on July 17 when police officers tackled him and put him in a chokehold. Police said he had been resisting arrest. The city's medical examiner ruled the death a homicide.
The deadly encounter on Staten Island, New York City's smallest borough, was captured on video, which quickly spread over the Internet and fueled debate about how US police use force, particularly against minorities.
It was the second grand jury in just over a week to decline to prosecute a white policeman in the death of an unarmed black man. The decision by grand jurors in Ferguson, Missouri, in the death of black teenager Michael Brown sparked a spasm of violence, with businesses burned and looted.
On Wednesday, about two dozen demonstrators lay down in Grand Central Terminal's main hall in Midtown Manhattan in a silent protest as the evening rush hour began. In Times Square, about 200 people gathered, chanting "No indictment is denial. We want a public trial."
On Staten Island, near the site where Garner was apprehended, some demonstrators defiantly crushed cigarettes in front of reporters and passersby - a reference to the reason that police gave for approaching Garner in the first place.
The Justice Department said it would investigate the Garner case. It is already probing the circumstances of the Missouri shooting.
Legal experts say that while there is no explicit law against chokeholds, their use is prohibited by New York police policy. Any violation, however, would not necessarily constitute a crime, they said. The Patrolmen's Benevolent Association, the municipal police union, says the officers involved in the Garner incident acted within the scope of the law.