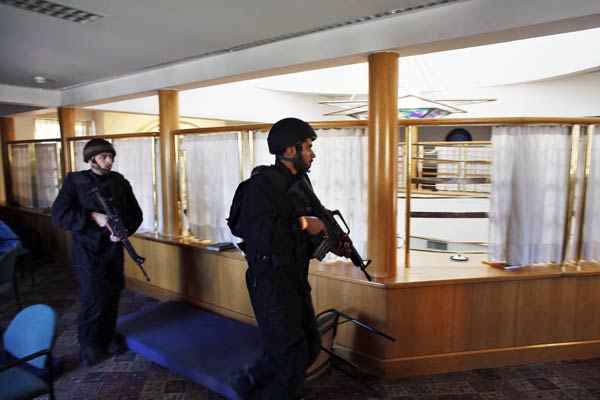 Israeli security personnel search a religious Jewish Yeshiva next to a synagogue, where a suspected Palestinian attack took place, in Jerusalem, November 18, 2014. [Photo/Agencies]
JERUSALEM -- Four people were reported killed in an apparent terror attack at a synagogue in the Har Nof neighborhood of Jerusalem Tuesday morning, Israeli media reported.
A Magen David Adom spokesman said that there were at least 13 victims, some of whom are gravely injured.
"We are viewing this as a terrorist attack," police spokesman Micky Rosenfeld said.
Two Palestinians, armed with axes and knives, entered the synagogue and began attacking worshipers. Both attackers were shot and killed, Channel 2 reported.
The ultra-Orthodox Har Nof neighborhood sits at the Western edge of Jerusalem.
Related stories:
Jordan recalls envoy to Israel over Jerusalem 'violations'