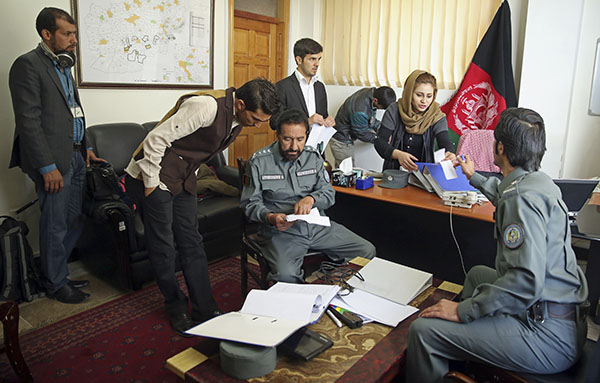 Afghan actors prepare to shoot a scene in Innocent Heart, a six-part drama set in Kabul. [Photo/Agencies]
Coming to Afghan television this week will be the story of Kabir, a 12-year-old boy who returns home only to fall in with the Taliban and see his life unravel as he learns violence doesn't pay and democracy is the way forward.
"Innocent Heart," a six-part drama featuring strong female characters and an election as a backdrop, comes as Afghanistan tries to move from war to democracy and foreign troops withdraw after more than a decade of fighting. While the Taliban banned television during their rule, foreign-funded TV soap operas like "Innocent Heart" now entertain viewers with stories that reflect their own lives while promoting change in this conservative, religious and poverty-stricken country.
"This type of messaging is very successful within a drama, as opposed to a documentary or a public service announcement, as people become attached to the characters because it is long-form television," said Trudi-Ann Tierney, the Australian writer of "Innocent Heart."
Independent television networks grew rapidly in Afghanistan after the 2001 US-led invasion that toppled the Taliban. Most TV time, however, is taken up by cheaply produced game shows, talent quests and dubbed soap operas from India and Turkey, as few stations are interested in making expensive dramas that might not attract advertising.
So made-in-Afghanistan dramas rely on foreign aid funding, which comes with the condition that the shows carry positive messages. In the case of "Innocent Heart," the US Agency for International Development bankrolled its production.
Similar previous programs have made a discernible impact on public attitudes, said Tierney, who has been making television shows in Afghanistan since 2009. Police action series "Eagle Four," a 2010 hit compared to the American thriller "24," sought to change public views of the police at a time when they were widely distrusted. The show also had women police officers who were tough and smart, challenging traditional attitudes that women should be confined to their homes.
"As the characters are learning along the course of the drama series, the audience is learning as well," said Tierney, who also worked on "Eagle Four." ''Of course, they've got to be entertaining or you don't have a captive audience, and the messaging has got to be subtly embedded into the story line. If it's too obvious or didactic, people know they are being preached to and they tend to switch off."
Television dramas remain a major way to reach Afghans, as just a quarter of the population is literate. Some 90 percent of those living in the capital, Kabul, have access to a TV, while percentages drop in rural areas, according to a 2010 study.
With "Innocent Heart," its producers hope that while being entertained, viewers also will learn through Kabir's plight.
"We are addressing violence, the radicalization of young people, community resilience, and the fact that it is a vulnerable child who is the perpetrator of a terrible crime will connect with people on an emotional level, which makes for very powerful television," Tierney said.