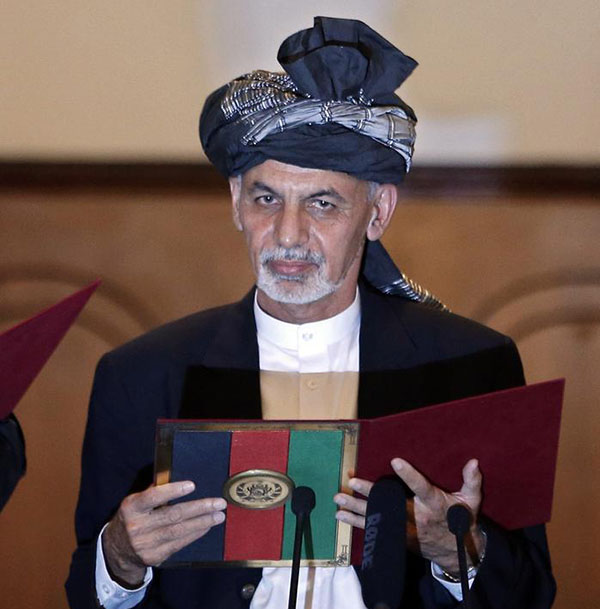 Afghanistan's new President Ashraf Ghani Ahmadzai takes the oath during his inauguration as president in Kabul in this September 29, 2014 file photo. [Photo/Agencies]
KABUL, Afghanistan - The new Afghan president travels to China this week, signaling the pivotal role he hopes Beijing will play in Afghanistan's future, not only in the economic reconstruction of the war-ravaged country after US and allied combat troops leave by the end of the year but also in a strategic foreign policy aimed at building peace.
Ashraf Ghani Ahmadzai will leave Kabul on Tuesday for a three-day visit to China, where he will meet President Xi Jinping, as well as potential investors to bankroll Afghanistan's development as it emerges from 30 years of war impoverished, wracked by corruption, and still struggling to contain the Taliban insurgency.
He will lead a delegation of Afghan businessmen at a summit where he hopes to attract Chinese investment to develop a mining industry as the bedrock of the economy, after more than a decade of dependence on international military and aid largesse. He will also attend the multilateral Istanbul Ministerial Process to discuss regional security, economic and political issues.
Since he was sworn into office in late September, the president's first trip abroad was to Saudi Arabia on Saturday on a religious pilgrimage fulfilling an election promise.
The visit to China demonstrates Ghani Ahmadzai's intention of utilizing Afghanistan's natural resources as a trade-off for infrastructure and industry.
The country has an estimated $3 trillion worth of natural resources, including copper, iron ore, silver, gold, coal, gems and minor metals such as chromite. Little has been exploited because there is no infrastructure and war wages on. China is active in oil production in the north of Afghanistan.
After committing to a $3 billion deal to develop a 5-million-ton copper deposit at Mes Aynak, near Kabul in Logar province, Chinese state-run consortium MCC pulled out its workers last year after they came under Taliban fire. The 2007 contract has since been renegotiated and work has yet to resume.
Nevertheless, the Mes Aynak contract provides a template for mining development, as it initially included road and rail links, processing plants, power generation and employment for local people. India is eyeing a $10 billion investment in iron ore in central Bamiyan province.
Before Ghani Ahmadzai can be sure that dollars flow from words, he needs to give assurance that work can proceed unimpeded by insurgency. So he is pursuing a foreign policy "aimed at creating mutual trust and reassurance among all our neighbors so that we can build trade and transit links," undercutting animosity that has seen Afghanistan become a proxy battleground between Pakistan and India, said Hamidullah Farooqi, a professor of economics at Kabul University and presidential adviser.
In July, Beijing appointed a special envoy to Afghanistan, Sun Yuxi, a former ambassador to both Afghanistan and India. It is hosting this year's Istanbul Ministerial Process for the first time, bringing together Afghanistan, Azerbaijan, China, India, Iran, Kazakhstan, Kyrgyzstan, Pakistan, Russia, Saudi Arabia, Tajikistan, Turkey, Turkmenistan, the UAE and Uzbekistan, with the US, Britain and other Western countries and international organizations as observers.
The trip will also enable Washington to judge Ghani Ahmadzai's progress on reform pledges after his predecessor, Hamid Karzai, left a legacy of corruption and antagonism towards Washington.
"Promises are a debased currency after Karzai, so if Ghani wants help from the US, he'll have a stronger hand if he can show a bit of performance," said Ronald Neumann, a former US ambassador to Afghanistan and president of the American Academy of Diplomacy.