CAIRO - At least 16 people, mostly children, were killed on Wednesday when a school bus crashed into three other vehicles on a desert road in the Nile Delta north of Cairo, state television said.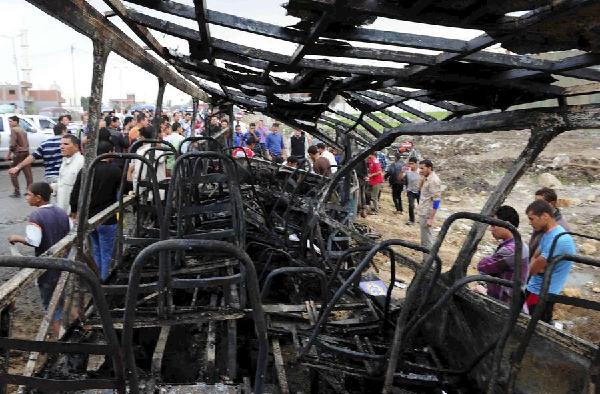 The relatives of students and members of the public look at the wreckage of a school bus after it crashed in Damanhur November 5, 2014. [Photo/Agencies]
Photos published online by privately-owned news outlets showed the bus engulfed in flames and later reduced to a charred metal frame, suggesting many of the victims were burned alive.
Eighteen people were also wounded in the crash and transported to hospital, a local health ministry official told Reuters.
Wednesday's accident came less than a month after 30 people died in a bus crash in southern Egypt. Hundreds die and thousands are wounded every year in Egyptian road accidents, often caused by reckless driving and poor roads.