Egypt's president says crackdown was justified
Egyptian President Abdel-Fattah el-Sisi is feeling vindicated by the world's alarm over Islamic extremism that is fueling wars and bloodshed across the Middle East.
The former army general has faced widespread international criticism for his ouster last year of Egypt's first freely elected president and his crackdown on Islamists.
But in an interview with The Associated Press - his first with the foreign media since he took office in June - Sisi insists all his actions were to combat militancy and save the country from civil war. He said Egypt is a model for fighting terrorism and that the US-led coalition to fight the Islamic State group in Iraq and Syria should take note.
"More than a year ago, I warned that the region was heading to great danger from extremist thought," he said. "It didn't receive proper attention until the events in Iraq took place and the Islamic State swept over the Iraqi-Syrian borders."
Washington is looking for support for its strategy to strike the Islamic State group.
Sisi said he is ready to help the US-led coalition. Asked if Egypt might provide airspace access or logistical support for airstrikes, he said, "We are completely committed to giving support. We will do whatever is required."
But he appeared to rule out sending troops, saying Iraq's military is strong enough to fight the militants and that "it's not a matter of ground troops from abroad".
Most importantly, he said, extremism across the region must be tackled - not just the Islamic State group. He warned that the greatest danger came from foreign fighters flooding into the region's conflicts, saying they will eventually return to their home countries - including those in Europe - and spread extremism there.
He said Egypt and Algeria were cooperating "to restore stability in Libya", but would not comment on reports Egypt had cooperated in airstrikes on militants in the North African nation. He confirmed for the first time that two deadly attacks on Egyptian troops in its western desert were carried out by militants who crossed into Egypt from Libya.
He said any strategy must also deal with the causes of militancy by fighting poverty, improving education and moderating religious discourse. "When all that happens together, it will bring a decisive result."
Justifying the past year's crackdown on the Muslim Brotherhood, he said it had "chosen confrontation". But he said followers of the group could participate in politics in the future if they renounce violence.
"To anyone who doesn't use violence, Egypt is very forgiving," he said. "The chance for participation is there."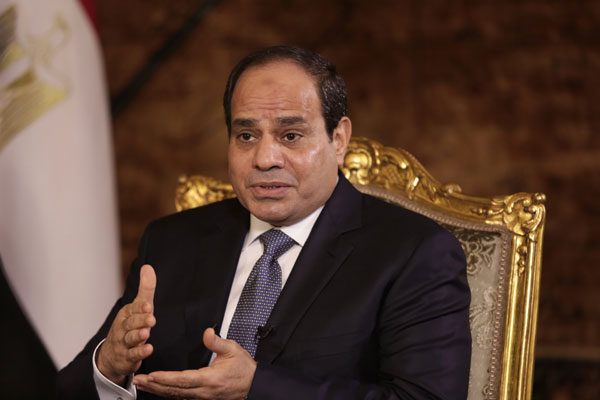 Egyptian President AbdelFattah elSisi speaks to The Associated Press during an interview in Cairo on Saturday.  Maya Alleruzzo / Associated Press