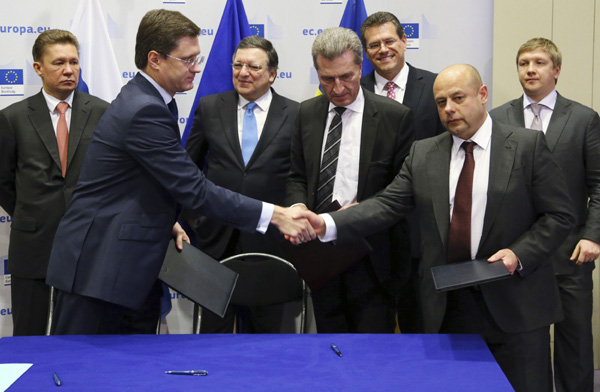 Russian Energy Minister Alexander Novak shakes hands with Ukraine's Energy Minister Yuri Prodan (R) after gas talks between the European Union, Russia and Ukraine at the European Commission headquarters in Brussels October 30, 2014. [Photo/Agencies]
BRUSSELS - Ukraine, Russia and the European Union signed a deal on Thursday that will see Moscow resume vital supplies of gas to Ukraine over the winter in return for payments funded in part by Kiev's Western creditors.
With overnight temperatures already nudging below freezing in Ukraine, European Commission President Jose Manuel Barroso hailed an accord clinched in Brussels barely 24 hours before he and the rest of his team make way for a new EU executive.
"There is now no reason for people in Europe to stay cold this winter," he told a news conference after witnessing the signing of documents by the Russian and Ukrainian energy ministers and EU energy commissioner Guenther Oettinger.
Worth $4.6 billion in total, the package calls for Ukraine to pay $3.1 billion in two tranches by the end of the year to cover debts for previous supplies from Russia's Gazprom , and Kiev will have $1.5 billion, some from existing accords with the EU and IMF, to pay for about 4 billion cubic metres of new gas until March, for which Russia is insisting on cash up front.
"Unprecedented levels of EU aid will be disbursed in a timely manner, and the International Monetary Fund has reassured Ukraine that it can use all financial means at its disposal to pay for gas," the European Commission said in a statement.
"Further work with the international financial institutions on financial assistance to Ukraine, also in relation to gas supplies, will still continue. But all three sides are reassured that Ukraine will have the necessary financial means."