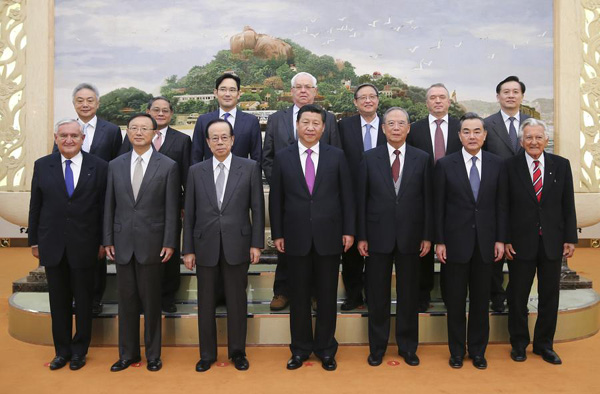 Xi meets with the the members of the board of directors of the Boao Forum for Asia (BFA) at Great Hall of the People in Beijing, Oct 29, 2014. [Photo/Xinhua]  
BEIJING - Chinese President Xi Jinping said Wednesday the prospect for Asian countries' cooperation is promising and a growing China will make bigger contribution to Asian development.
Xi made the comments in a meeting with the members of the board of directors of the Boao Forum for Asia(BFA), who gathered in Beijing for a working conference.
Xi congratulated them on the success of the meeting and shared China's development and views on the prospect of Asian development.
He called on the BFA to make contribution to promoting China's exchanges and cooperation with other countries and seeking Asian prosperity.
Stressing that China's economic growth is moderate yet steady, Xi said China is committed to transforming its development mode, adjusting its economic structure and upgrading its industries, so as to attain a sustainable and healthy economic development. ' Xi said China is comprehensively deepening reform, opening up more to the world, sticking to the rule of law, reinforcing the build-up of the ruling party and making efforts to realize the "Two Centenary Goals," i.e., by 2021 when the Communist Party of China(CPC) celebrates its centenary, China aims to complete the building of a "moderately prosperous society in all respects; and by 2049, when the People's Republic of China marks its centennial, the country aims to be a modern socialist country that is prosperous, strong, democratic, culturally advanced and harmonious.
Xi said China's development is closely linked to Asia's destiny. "Asian countries' road of cooperation is broad and the prospect for development is promising."
Xi called on Asian countries to join hands, promote self-development, seek mutually-beneficial cooperation, accommodate each other, pursue opening-up and boost common prosperity.