Business and professional heavyweights from Hong Kong, including Asia's wealthiest men like Li Kar-shing and Lee Shau-kee, will meet with President Xi Jinping in Beijing on Monday, three weeks after the top legislature adopted a blueprint for the city's election reform.
The delegation - comprising over 60 influential figures from the special administrative region - was led by Tung Chee-hwa, a former chief executive of Hong Kong and vice-chairman of the National Committee of the Chinese People's Political Consultative Conference.
Lee, chairman of Henderson Land, told reporters at a Beijing hotel that he was looking forward to more favorable policy initiatives for Hong Kong.
He also said he believed that a gradual approach to universal suffrage will best safeguard people's livelihoods.
"You can't reach the sky in one step. Let's take it slow and gradually," said Lee.
It was only three weeks ago that the National People's Congress Standing Committee had put forth a framework for the universal election of the chief executive in Hong Kong, including details that Hong Kong voters would select a new chief executive from an approved list.
According to Chan Wing-kee, a CPPCC Standing Committee member, the tycoons and community leaders will meet Xi on Monday afternoon, and he hoped that the central leadership would make clear statements on the reform blueprint.
"I believe there are still people who have not been well informed of the situation, or they have pretended to not know about it. I hope the central leadership could make a clearer statement on political reform as it addresses the delegation," said Chan before the trip.
Lo Man-tuen, vice-chairman of the Hong Kong Chinese General Chamber of Commerce, said in Beijing that he was expecting the central leaders to also highlight the importance of the economy as the city has become overwhelmed by the reform debate.
Apart from meeting Vice-President Li Yuanchao in the afternoon, the group will also attend a forum organized by the National Development and Reform Commission and a dinner hosted by National People's Congress Standing Committee Chairman Zhang Dejiang.
kahon@chinadailyhk.com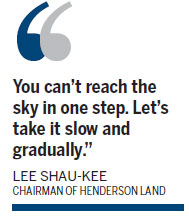 (China Daily 09/22/2014 page3)