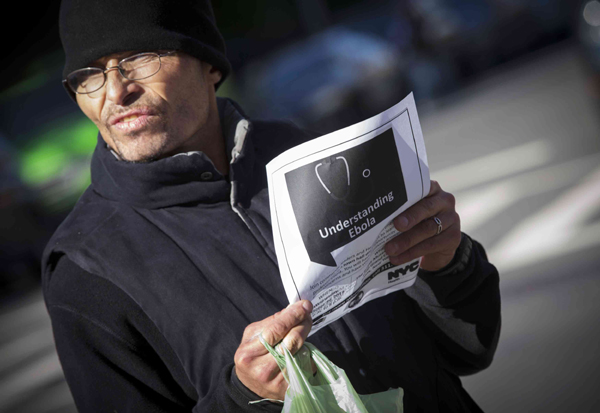 A man reads information on the Ebola virus handed out by New York City Health department officials near a Bronx New York apartment building, October 27, 2014, from where a 5-year-old boy who arrived from Guinea was taken to Bellevue Hospital in New York and has exhibited a low-grade fever. The boy was being tested for the Ebola virus according to city officials. [Photo/Agencies]
WASHINGTON - The US government on Monday urged people considered "high-risk" for Ebola to voluntarily stay at home for 21 days after returning from Ebola-stricken West African countries.
Tom Frieden, director of the US Centers for Disease Control and Prevention (CDC), said at a telebriefing that travelers from Liberia, Sierra Leone and Guinea will now be placed into four risk categories, based on their degree of exposure to the deadly virus.
The high-risk category would involve those who, for instance, got a needle stick while caring for an Ebola patient or family members who have cared for an Ebola patient without using protective equipment, he said.
Those people would be advised to voluntarily isolate themselves at home for 21 days and undergo direct active monitoring with their temperatures taken twice a day. They would also not be allowed to take public transportation or attend public gatherings, said the CDC chief.
Frieden believed that the new guidelines could "increase the level of protection" for Americans while at the same time protecting those who are doing "the heroic work of protecting us from Ebola as they fight it" in West Africa,
Individuals classified as "some risk" would include those who lived in a household with an Ebola patient or healthcare workers who provided direct care to Ebola patients in West Africa, but who did not have direct contact with the sick person themselves.
People in this group are recommended to also undergo direct active monitoring, and local health authorities should determine on an individualized case-by-case basis if additional restrictions, such as controlled movement, workplace exclusions, or restrictions on other activities, are appropriate, said Frieden.
The third group would include people at "low but not zero" risk, such as those who traveled in the affected countries within the previous 21 days, and healthcare workers who cared for Ebola patients at US hospitals. Those who have traveled to a country with Ebola outbreak more than 21 days ago would be considered "no identified risk" of developing Ebola.
The new guidelines came after the governors of New York, New Jersey and other US states issued mandatory quarantines over the weekend for all healthcare workers who came into contact with infected people in West Africa.
The strict policies have been criticized by US health experts who feel that the policies are unnecessary. A statement released Sunday by the White House also quoted President Barack Obama saying that any measures involving returning healthcare workers " should be crafted so as not to unnecessarily discourage those workers from serving."