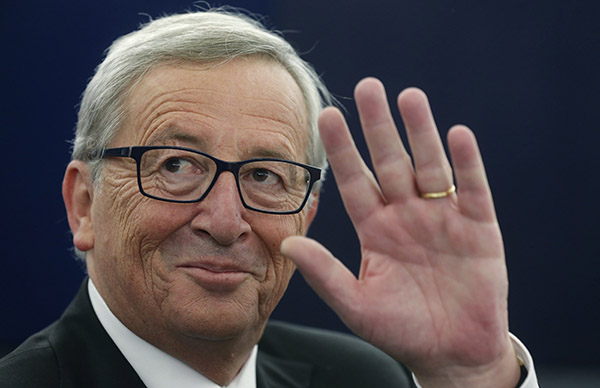 Jean-Claude Juncker, the incoming president of the European Commission, waves as he arrives to attend the presentation of the college of Commissioners and their program during a plenary session at the European Parliament in Strasbourg, October 22, 2014. [Photo/Agencies]
BRUSSELS - The European Union legislature has approved the appointment of former Luxembourg leader Jean-Claude Juncker as the new EU Commission president molding policies of the 28-nation bloc for the next five years.
Despite weeks of haggling over some of the 26 Commissioners in his team, the European Parliament approved the Juncker appointment by a vote of 423-209 with 67 abstentions.
Juncker, 59, has said economic growth and an upsurge in employment will be the key challenges during his tenure.
Juncker takes over from Portugal's Jose Manuel Barroso, who led the Commission for the last decade. Amid other changes in the bloc, EU Council President Herman van Rompuy will step down by the end of next month and hand over to former Polish leader Donald Tusk.