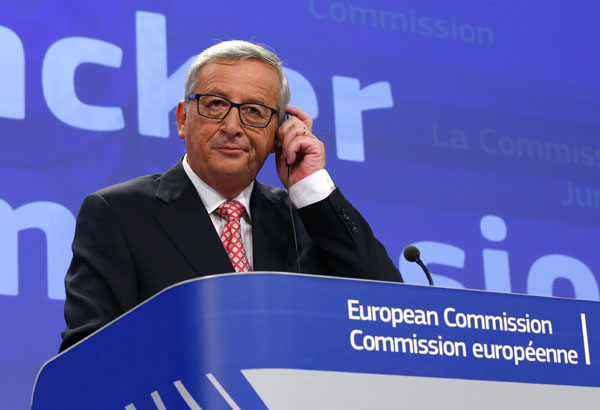 Jean-Claude Juncker, the incoming president of the European Commission (EC), presents the list of the European Commissioners and their jobs for the next five years, during a news conference at the EC headquarters in Brussels September 10, 2014. Juncker handed key economic and financial responsibilities to French and British members of a restructured, 28-strong team he unveiled on Wednesday. [Photo/Agencies]
PARIS - Party politics seems set to trump concerns about the competence and suitability of several candidates for the European Commission when lawmakers pass judgment on Jean-Claude Juncker's most controversial nominees this week.
The European Parliament has flexed its muscles by recalling Britain's Jonathan Hill for a second hearing on Tuesday on his fitness to be in charge of banking and financial services.
The French, Hungarian and Czech aspirants are being forced to take written re-sits. Parliament's lawyers are scrutinising the financial statements of Spain's nominee for the energy and climate change portfolio, Miguel Arias Canete, who is also under fire over his family's oil industry ties.
And the former Slovenian prime minister, who nominated herself after losing an election, faces a bumpy ride on Monday.
Yet mutual dependence between the EU's two main political families -- Juncker's centre-right European People's Party (EPP) and the centre-left Socialists and Democrats (S&D) of European Parliament president Martin Schulz -- means any major rejections seem unlikely.
"The worst case scenario that we keep all the bad candidates because they cut a deal cannot be ruled out," said Sylvie Goulard, a member of the centrist ALDE group on the economic committee, which grilled Hill and France's Pierre Moscovici.
She said Juncker would do better to reshuffle his pack so that weaker nominees are moved to less sensitive jobs but added: "That is not the direction things are going in."
A senior EU official, reflecting the institutional fears of Commission veterans, said score settling by the political groups had taken over from the examination of competence.
"It is no longer about the right candidate. It is a political game between the parties in parliament -- taking hostages and exchanging them," he said.
Juncker's spokeswoman said he was satisfied with the performance of all the candidates in their hearings, especially Hill. A source close to the former Luxembourg prime minister said he spent the weekend working the telephones to parliament leaders and Schulz "to cool things down".
THREE POWER STRUGGLES
There are at least three power struggles in play: between Juncker and the parliament; among the main political groups in the legislature; and between lawmakers and the member states.
Parliament forced the replacement of nominees in 2004 and 2009 and some lawmakers want to wield that power again to assert the Commission's accountability to the elected assembly.
Schulz was Juncker's unsuccessful centre-left opponent in the May European elections and may have a personal motive for flexing the legislature's prerogatives.
However Juncker can claim democratic legitimacy of his own since unlike his predecessor, Jose Manuel Barroso, he was the EPP's declared lead candidate in the election campaign.
Aides to the incoming president say he recognizes that parliament needs to get something out of the confirmation process, but he hopes it will be satisfied with fuller answers to the follow-up questionnaires and won't insist on scalps.
The two main political groups are dependent on each other for a majority due to the influx of Eurosceptic far-left and far-right members after the pan-European elections, so a sort of "mutual assured destruction" may impose an armistice.
Some deputies are keen to inflict defeats on the British and Hungarian nominees because of Britain's Eurosceptic outlook and Hungary's record on media freedom and the rule of law.
But rejecting Hill could open a crisis with London, perhaps making it more likely that Britons vote to leave the EU if Prime Minister David Cameron's Conservatives win next year's general election and hold a promised in/out referendum in 2017. And Hungary's Tibor Navracsics distanced himself somewhat from Prime Minister Viktor Orban.