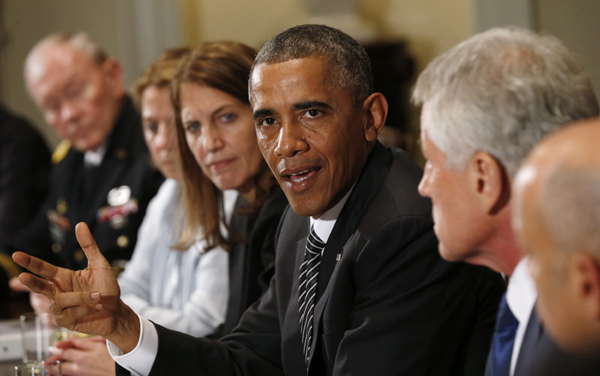 US President Barack Obama holds a meeting with cabinet agencies coordinating the government's Ebola response, in the Cabinet Room of the White House in Washington October 15, 2014. From left are Chairman of the Joint Chiefs of Staff Gen. Martin Dempsey, Lisa Monaco, assistant to the president for homeland security and counterterrorism, Health and Human Services Secretary Sylvia Burwell, Secretary of Defense Chuck Hagel and Homeland Security Secretary Jeh Johnson. [Photo/Agencies]
WASHINGTON - The United States will monitor Ebola "in a much more aggressive way", President Barack Obama said Wednesday, hours after a second nurse in Texas tested positive for the disease.
"We're going to make sure that something like this is not repeated," Obama spoke after meeting with top Cabinet officials on the government's response to Ebola.
"And we are monitoring, supervising, overseeing in a much more aggressive way exactly what's taken place in Dallas initially, and making sure that the lessons learned are then transmitted to hospitals and clinics all across the country."
Obama said the US Centers for Disease Control will send a rapid response team to any hospital that receives a confirmed patient with Ebola "as quickly as possible, hopefully within 24 hours."
He acknowledged that "a lot of non-specialized hospitals and clinics don't have that much experience dealing with" Ebola.
But he emphasized that the likelihood of a widespread Ebola outbreak in the United States was "very, very low", saying he is "absolutely confident" that the United States can prevent a serious outbreak of the disease.
Obama said the fact that the two nurses have gotten sick highlights the importance of the international response to the Ebola epidemic in West Africa.
"It is very important for us to understand that the investment we make in helping Liberia, Sierra Leone, and Guinea deal with this problem is an investment in our own public health," he said.
"It is also probably the single most important thing that we can do to prevent a more serious Ebola outbreak in this country is making sure that we get what is a raging epidemic right now in West Africa under control."
At least 4,493 people, predominantly in West Africa, have died in the worst Ebola outbreak since the disease was identified in 1976, the World Health Organization said in a report released Wednesday.