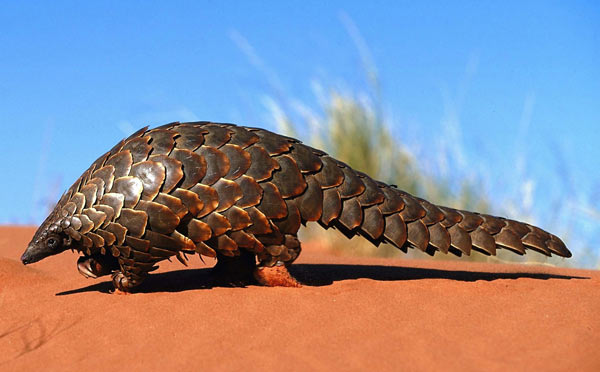 The critically endangered pangolin is hunted, traded and killed for its scales and meat. [Provided to China Daily]
It looks like a giant four-legged pine cone with a long snout and longer tail. Its scales are sharp and it can roll into a ball when threatened. It has powerful, sharp front claws so long that they have to be tucked under to walk on and it can put out a smell that rivals a skunk's. It has no teeth but its spaghetti-thin tongue, designed for eating ants, can extend 16 inches — almost half its body length —beyond its snout.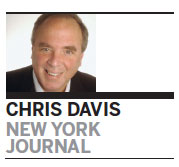 Pangolins, AKA scaly anteaters, come in eight species and range from Africa across Asia. According to the recently updated Red List from the International Union for Conservation of Nature (IUCN), all eight species are in danger of extinction, with the Chinese species earning the "Critically Endangered" ranking for the first time.
The Pangolin Group, hosted by the Zoological Society of London, estimates that more than a million pangolins have been stolen from the wild in the past 10 years, reducing some populations by 80 percent.
Pangolin scales, which are formed from keratin (the same substance as human fingernails and rhino horns), are roasted and used in traditional Chinese medicine for "detoxification, draining pus, attenuating palsy, and stimulating lactation", two professors from the College of Biological Sciences and Technology atBeijingForestry University wrote in Science magazine recently.
Yuning Liu and Qiang Weng also warn that pangolins have become the most illegally traded mammal in the world, because of the huge demand for its scales as well as its flesh, which is considered a delicacy in East Asia.
Pangolin scales — considered a rare medicine with names like "unicorn tablets" and "carp armor" — have been soaring in price — from $13.50 per kilogram in 1990 to $580 per kilo today.
In July, 2 tons of pangolin scales from Cameroon were seized in Hong Kong in a 115-bag shipment labeled as "timber" and a Malaysian businessman was arrested.
"In even greater demand is the pangolin meat, despite the risk of infection associated with eating it," Qiang writes.
During the SARS outbreak of the early 2000s, pangolins — along with bears and monkeys — were suspected of being carriers of the coronavirus that killed 642 people and sickened 7,860 across the world.
In May 2014, border police in Zhuhai, Guangdong province seized a shipment of 956 frozen pangolin bodies in 189 boxes with a total weight of 4 tons, Xinhua reported. The smugglers faced penalties up to life in prison or death, the report said.
Xinhua also went undercover in Fuzhou, Fujian province and exposed "a very secretive" upscale dining club with "fingerprint door locks" whose main specialties were pangolin, giant salamander and king cobra. Pangolin, the undercover reporter learned, was selling for 1,288 yuan ($215) per kilo and were still alive, slaughtered fresh and cooked to order.
China has 420 species of wild animals on its endangered list, with 103 on the top tier with the giantpandaandgolden monkey; 79 on the aquatic list; and 238 enjoying secondary protection — black bears, pangolins and others.
A staff worker at the Fuzhou Zoo told the Xinhua reporter that pangolins were difficult to raise in captivity since their main food was termites and ants, with one adult eating about 70 million bugs a year.
After hosting the first-ever global conference on the conservation of pangolins last year, the IUCN has come up with a plan. Dan Challender, co-chair of the IUCN Species Survival Commission Pangolin Specialist Group, said on the group's website: "Our global strategy to halt the decline of the world's pangolins needsto be urgently implemented. A vital first step is for the Chinese and Vietnamese governments to conduct an inventory of their pangolin scale stocks and make this publically available to prove that wild-caught pangolins are no longer supplying the commercial trade."
The working group said it has committed itself "to ensuring that these enigmatic species are not traded into extinction and will press for promotion, enhancement and strict enforcement" of international laws protecting them.
"Similar to its cracking down on the smuggling of ivory and rhinoceros horn, the Chinese government should strengthen enforcement against illegal pangolin transactions," Qiang wrote in Science. "Further publicity and education are also called for to put an end to the chase for 'wildlife delicacies'. Finally, developing herbal alternatives to pangolin scales would benefit the population. These actions may be crucial to prevent the extinction of the pangolin in China."
Contact the writer at chrisdavis@chinadailyusa.com