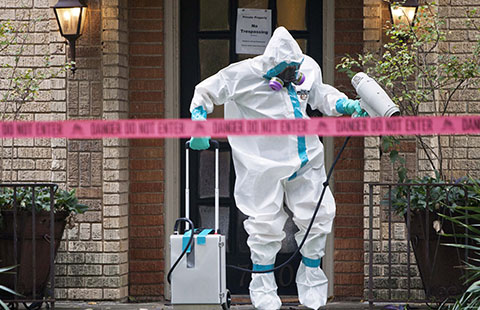 A member of the CG Environmental HazMat team disinfects the entrance to the residence of a health worker at the Texas Health Presbyterian Hospital who has contracted Ebola in Dallas, Texas, October 12, 2014. [Photo/Agencies]
DALLAS - A second health care worker at a Dallas hospital who provided care for the first Ebola patient diagnosed in the US has tested positive for the disease, authorities said Wednesday.
The worker reported a fever Tuesday and was immediate isolated at Texas Health Presbyterian Hospital, the Texas Department of State Health Services said in a statement.
Health officials said the worker was among those who took care of Thomas Eric Duncan after he was diagnosed with Ebola. Duncan died on Wednesday at the Texas hospital.
The department said a preliminary Ebola test was conducted late Tuesday at a state public health laboratory in Austin, Texas, and that confirmatory testing would be conducted at the federal Centers for Disease Control and Prevention in Atlanta.
The statement also said the health care worker, who wasn't identified, was interviewed to quickly identify any contacts or potential exposures and that others will be monitored. It added that the type of monitoring will depend on the nature of their interactions with the health care worker and the potential of exposure to the virus.
Officials have said they don't know how the first health worker, a nurse, became infected. But the second case pointed to lapses beyond how one individual may have donned and removed personal protective garb.